BP agrees price to buy AAR out of TNK-BP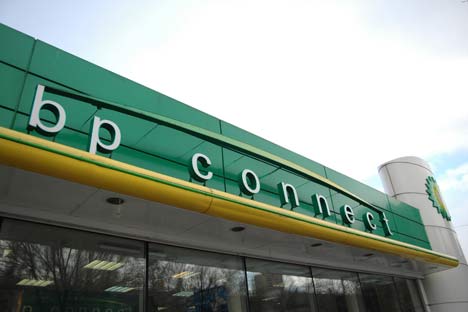 BP Connect gas station in Moscow. Source: ITAR-TASS
BP and Rosneft have agreed a price of around $32bn to buy AAR out of TNK-BP, but a deal is unlikely to go through before today's deadline on the Rosneft-BP tie-up because the Russian oil giant now needs to conduct its part of the negotiations with AAR, reports the BBC.
In addition, as part the agreement BP has reached with AAR, Mikhail Fridman would get a large shareholding in the British company, and has apparently pressed to remain on TNK-BP's board as BP representative.

Robert Peston, business editor for the BBC, lays out a series of statements explaining his 'understanding' of the state of negotiations on the broadcaster's website, without offering any reference to sources.

Peston says: For what it's worth, the most likely outcome - I am told - is that BP's attempt to swap shares with Rosneft and to form a joint venture to explore the Russian Arctic will lapse at midnight tonight.

To be clear, that's the most likely outcome, but it's not inevitable. What's more, even if the high-profile deal were to lapse, I am assured this would not be the financial and PR disaster for BP it seems - for two reasons.

First, it's highly likely that negotiations between BP and Rosneft would resume, in a less high-profile way, in a few weeks time.

Second, BP's relations with its billionaire oligarch co-investors in TNK-BP, Victor Vekselberg, Mikhail Fridman and Leonard Blavatnik - who are grouped together in a consortium called AAR - have not been as seriously damaged by BP's attempt to get into bed with Rosneft as is widely believed.

As I understand it, BP's chief executive, Bob Dudley, spent the weekend in Moscow meeting with the oligarchs - and he emerged persuaded that BP and AAR would continue to work constructively together as partners in TNK-BP, as they have done in recent years, should that be necessary.

Although it looks as though BP's proposed deal with Rosneft will lapse tonight, what many would perceive as the biggest and most important elements of a compromise deal have been agreed.

Why won't the deal happen (probably)? Well although BP has reached agreements both with Rosneft and with AAR, Rosneft and AAR need to agree terms with each other. That hasn't happened yet - and those close to the talks fear it won't happen before tonight's midnight deadline.

To be more precise, BP has agreed with the oligarchs that itand Rosneft together would buy their 50% shareholding in TNK-BP for between $31bn and $32bn, which would value the whole of TNK-BP at more than $62bn.

Now this acquisition would be split half and half between BP and Rosneft, so BP would provide up to $16bn of the purchase price, to take its stake in TNK-BP from 50% to 75% - and Rosneft would emerge with 25% after providing the other $16bn.

At the same time, contracts known as put and call options would be put in place that would give Rosneft the right and ability to buy a third of BP's enlarged TNK-BP holding. So that ultimately BP and Rosneft would probably become 50:50 partners in TNK-BP, just as BP has been with the oligarchs.

The oligarchs would no longer have a stake in TNK-BP, but one of them, Mikhail Fridman, would wish to have a continuing presence in the energy sector.

Mr Fridman would therefore prefer to be paid in BP shares rather than cash, I am told, which would give him a huge stake in BP. And on the basis of that huge BP stake, he would like to stay on the TNK-BP board as a BP representative.

As far as I can gather, the other two oligarchs would be more happy to receive a huge pile of cash and wave bye bye. That's because Mr Blavatnik has conspicuous plans to become a big player in the entertainment industry, and Mr Vekselberg has become one of the most influential investors in internet and social media ventures.

All of which seems to be hunky dory for BP. But obviously because the TNK-BP takeover would involve a massive investment by Rosneft, it has to be approved by Rosneft's owner, the Russian government - which has not yet been given. There is also some issue, which I don't understand, about how the deal is being guaranteed and who is guaranteeing it.

Anyway, I am told that the oligarchs are some distance from reaching agreement with Rosneft and the Russian government. There are busy attempts being made, via BP, to achieve an entente between the two sides. But there isn't a great deal of optimism it will happen on time.

Or to put it another way, it is all a bit of a murky mess. And it means that Rosneft will probably not - for the time being at least - be acquiring 5% of BP, and BP will not be taking its stake in Rosneft from 1% to over 10%.

But that doesn't remotely mean that BP and Rosneft will never get together, either as investors in each other or as partners exploring the Arctic. It's just that the path to true corporate love, Russian style, is as meandering and perilous as is possible to conceive.
All rights reserved by Rossiyskaya Gazeta.