Russia puts out the welcome mat for highly skilled foreigners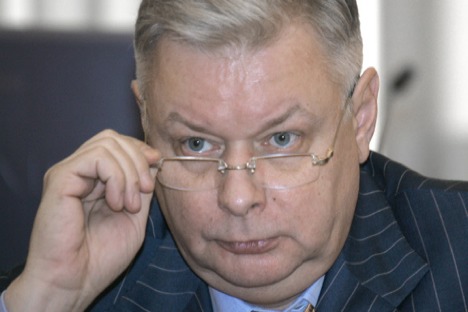 Konstantin Romodanovsky, head of the Russian Federal Migration Service. Photo: RIA Novosti
The Russian government does not want to let go of high-profile foreign specialists. With this in mind, they will be granted not only simplified entry requirements, but also a chance to apply for Russian citizenship.
It took the Russian Federal Migration Service over six years to put together a comprehensive state migration policy strategy. The resulting draft presented by the head of the service, Konstantin Romodanovsky, proved to be truly revolutionary. The new entry rules for foreign professionals are taking effect this summer. Eventually, the federal service plans to abandon the use of outdated institutions such as temporary residence permits and migration quotas. Experts see the draft's major goal in shifting the focus from temporary to permanent migration.
In May 2011, President Dmitry Medvedev signed into law amendments to migration legislation to make it easier for foreigners to enter Russia on a temporary basis. The next stage is to let everyone wishing to do so settle permanently in Russia. Romodanovsky lays out the new top priorities of the government's migration policy in black and white: "We are interested in attracting foreign nationals who wish to stay in Russia for a long time and become Russian citizens."
"The temporary migration program aimed at generating economic benefit from foreign labor is inefficient from a demographic perspective. It is difficult to achieve the demographic strategy's objectives without a permanent migration program," said Deputy Head of the Institute of Demography of the Higher School of Economics Mikhail Denisenko.
The existing practice of temporary residence permits is one of the major hurdles that prevent foreigners from settling in Russia, according to experts. This is how Romodanovsky described the difficulties involved in obtaining citizenship: "A foreigner can obtain Russian citizenship through only three steps which take a total of eight years: first a temporary residence permit, then a permanent residence permit and finally, citizenship."
To replace this system, Romodanovsky proposes a residence permit mechanism used by most western countries. He said the system will be as straightforward as possible. "Any person will be able to fill out a questionnaire, and after the information is objectively verified, he will be issued a residence permit," Romodanovsky explained.
The Federal Migration Service has not specified the exact number of foreigners that Russia needs, since the draft strategy presented contains no specific figures. According to the Higher School of Economics, depending on labor productivity growth, Russia may need from 10 to 20 million foreign workers by 2020.
All rights reserved by Rossiyskaya Gazeta.