Russian Educational Fair — 2011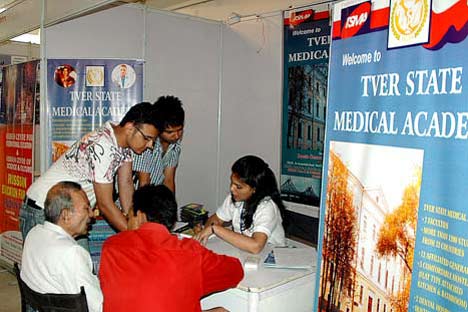 Russian Educational Fair 2011 in New Delhi
"The Russian Education Fair – 2011" was opened at the Russian Centre of Science and Culture (RSCS) in New Delhi on May 12. The delegation will also visit other major cities of the country.
A large number of Indian students and their parents and media made their presence felt at the inaugural ceremony, reflecting on the increasing interest shown by aspiring Indian students on higher studies in Russian. Opening the Exhibition, Mr. Rozovskiy, Director, RCSC, noted that this annual event provided a wonderful opportunity for aspiring Indian students to pursue their higher studies in different faculties in various faculties in Russia, a positive sign of the viable and feasible advance studies in Russia preferred by Indian studies.
Impressed with the tremendous response shown by Indian students, the head of the Russian Delegation, Prof. Mikhail N. Kalinkin, Rector of the Tver State Medical Academy and President of Association of Russian University Working in India, observed that the present Exhibition is significant in the sense that it is well timed, first and foremost, with Yuri Gagarin's Flight into Outer Space. He continued by saying that the bilateral relation in this regard has a long history, carrying with it excellent reputation and good prospects. This year, over 800 Indian students are undergoing higher studies in Russian universities. Significantly enough, the government is supporting a number of leading universities to pursue research and open new faculties. Against this background, the aspiring Indian students can make use of the opportunities to pursue higher educational studies fulfilling their ambitions. Almost 80 per cent of students opt for medical studies, but adequate encouragement and incentives are provided to students to go ahead with engineering courses and technical education.
The government is considering the provision for funds to technical education in various Russian higher institutions. This is largely a wonderful opportunity offered to Indian students to pursue higher studies in Russian universities with relatively less cost in comparison to western universities, Prof. Kalinkin noted.
The exhibition comprised stalls representing different Russian educational institution such as Moscow Power Engineering University, Moscow Aviation Institute, Tver State Medical Academy, Tomsk State Polytechnic University, Vogograd State Medical University, Rostov State Medical University, Bashkir State Medical University and Mary State Technical University.
The fair will be organized in Chennai, Kolkata, Mumbai, Ahmedabad, Jaipur, Surat, Lucknow and Chandigarh as well. Free counseling and spot admission will also be provided for aspiring students to enable them to get admission to the recognized medical, engineering or other universities in Russia. Few scholarship seats are also available. As for as the standard of higher education in Russia it is considered to be one of the most advanced and high in the world, facilitated by faculties of the universities comprising highly qualified scientists and professors.
The cost of higher education in Russia is much cheaper than that in the countries such as the US, the UK, etc. Russian as well as English medium of instructions are available there. Russian education system is well-known, welcome and accepted throughout the world for its elaborate and unique features and duly recognized by the UN authorities as well as the Medical Councils of the lading world countries. Russian Medical Universities are some of the best ones. UNESCO and the WHO have always rated the Russian medical universities at a high level. Out of the first best-rated medical universities in the worlds, about 30 are from Russia.
All rights reserved by Rossiyskaya Gazeta.