Gazprom: Searching for Clout in Asia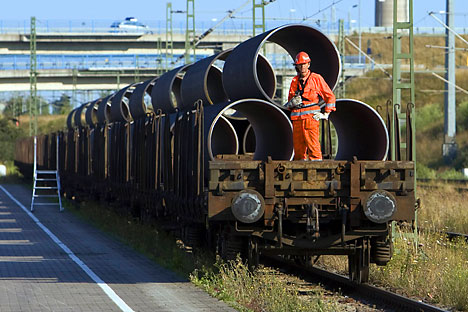 Alexei Miller met with Bangladesh's Foreign Minister in April to discuss ways for Gazprom to join gas production projects in that country's eastern provinces and to participate in upgrading and expanding its gas transportation system.
This was the third meeting between Bangladeshi officials, Gazprom and Gazpromzarubezhneftegaz representatives this year. Immediate plans include establishment of a JV between Gazprom and the local monopoly PetroBangla, as well as a contract to build two gas compressor stations.
Proven natural gas reserves in Bangladesh are commensurate with the Russian gas monopoly's annual production. You would think this is a drop in the bucket, especially as we are talking about "reliably discovered" rather than developed reserves; but if we bear in mind that Gazprom is the biggest global player on the "blue fuel" market, with around a 15% (!) global market share (around 460 bn cubic metres in 2009), those negotiations suddenly start making sense. Assuming the JV with PetroBangla is set up on a parity basis and the partners manage to double Bangladesh's gas production (which is totally feasible), this would result in a two to three per cent output growth for the gas giant. Not bad at all.
It is worth noting that the second subject of the negotiations, i.e., upgrading, or more precisely, creating a fuel transport infrastructure almost from scratch, deserves the most attention. This is a strategic factor, as experienced Russian specialists using Russian equipment and technology will perhaps perform the design and construction of the gas pipelines and compressor stations. This will clearly be factored into the establishment of the JV, placing Gazprom in a position to obtain a relevant stake in the production projects at a lucrative price.
Going forward, the most important implication of this story may be a recovery and strengthening of Russia's "old economic ties" in the Indian region, with its 1.5 billion population. Once it gets a legal and "physical" foothold in Bangladesh, Gazprom will create a bridgehead for expansion into India. With between eight and nine per cent annual economic growth rates, demand for gas will triple there in five years' time (against today's just short of 100 bn cubic metres per year.) The most promising natural gas deposits are situated offshore in the Bay of Bengal (Eastern India), in relative proximity to its border with Bangladesh. Geographically, production sites in Bangladesh and (eventually) on the Bengal shelf will end up 1,000 to 2,000 km from each other. The state-owned corporation Gas Authority of India Ltd. plans to build 16,000 km of pipelines in India over the next few years. With this in mind, it should be a strategic goal for Gazprom and the Russian political leadership to get involved in India's fuel production and ground transportation projects.
India today imports LNG from Qatar and is building gas pipelines from Iran and Turkmenistan (TAPI), but further diversification of supplies is welcomed at the highest level there, including as part of India's national energy security programme.
By the way, "tapping" Bangladesh may prove a good starting for construction of a Myanmar–Bangladesh–India (MBI) pipeline. This project has been put on hold because of the conditions imposed on India by the Bangladesh leadership. Close cooperation between Gazprom and PetroBangla might lead to a settlement of the disagreements through Russian mediation.
It should be pointed out that Gazprom's arguably most prominent contractor, Stroytransgaz, has a ten-year track record of operating on India's construction market. The company has carried out nine pipeline construction projects all over India.
Potential cooperation with PetroBangla is not without its snags. These might include the position taken by Gazprom's local partner's management on fuel exports to the all-important Indian market. A major global player such as America's Chevron during its seven years of cooperation with PetroBangla has still not managed to push through its plans for natural gas exports from Eastern Bangladesh deposits even through litigation. PetroBangla has always insisted on exclusivity of the local market when it comes to supplies, unless additional gas reserves are discovered. (The share of natural gas accounts for up to 80% of the country's fuel consumption structure.) Nevertheless, Chevron's track record in Bangladesh testifies to a real possibility of fruitful cooperation with that country.
Until the details of the Bangladesh JV are made public (including the price and percentage of Gazprom's stake and the size of the new company's reserves), the results of the bilateral meetings are unlikely to affect Gazprom's stock price. Today, I recommend Gazprom as a Hold in a medium-term portfolio (target price: RUB 260, upside: 16%).
All rights reserved by Rossiyskaya Gazeta.