Giving credit where credit is due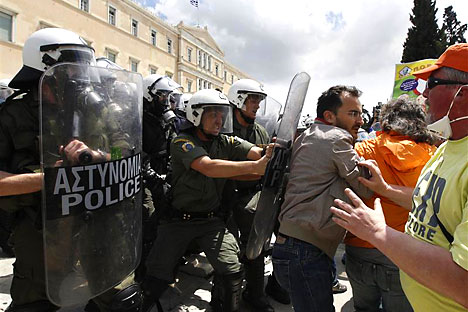 Riot policemen block municipal workers in front of the parliament building during a march against austerity in Athens, May 18 2011. Greeks have staged repeated demonstrations to protest the EU/IMF prescribed belt-tightening. The IMF warned Greece on
Emerging markets deserve to be rewarded for maintaining sensible financial policies in the face of a crisis.
With Greek sovereign default fears sweeping the market once again, it is time foreign investors woke up to the realities of emerging market fundamentals and gave them some real credit for the prudent economic management that is so palpably missing in the west.
There is a kind of surreal "freaky Friday" scenario playing out in emerging markets. Here, corrupt politicians with a history of stealing from the state purse are giving way to competent central bankers who enact sensible fiscal policies. Meanwhile, in the west, those dour, charcoal-suited central bankers are morphing into mellifluous politicians who care more about quarterly returns in equity portfolios than the long-term financial health of their countries.
Politicians are nominally charged with managing the economy, but in reality always have an eye on the ballot box. Inconveniently, economies don't work in four- or five-year election cycles; they operate on a 10-to-20-year timeframe. This disconnect is why central banks were made independent; after all, you can't fight inflation with sound bites.
In good times, the gap between the responsibilities of central banks and the interests of politicians is not very big, but in times of crisis like this, the divide is a gaping hole.
Instead of biting the bullet and forcing through policies that would de-leverage companies that are bloated with debt, the central bankers have in effect moved this debt over to the public account.
Instead of cutting costs, the bankers have decided to cut interest rates to next to nothing. They are asking people to work more for less, and writing off the worst loans. They seem to believe that if you cut interest rates enough, people will borrow, buy more, drive economic growth and spark a recovery.
It's a policy based on fantasy. And more importantly, it is not working. The influx of liquidity created by quantitative easing (read: printing money) is temporarily lifting growth and equity prices, but that debt is still there. In the long term, debasing the currency will only cause the standard of living to go down.
And now, at last, this policy is failing to convince investors. Greece is having problems because its politicians were not brave enough to push through reforms that would have benefited the country but potentially cost them their jobs; the United States has recently experienced the shock of receiving a "negative" outlook from Standard & Poor's for the first time ever.
To see a different reaction to economic troubles, take a look at Russia. The federal budget is running a deficit for the first time in years, so Deputy Prime Minister and Finance Minister Alexei Kudrin froze spending. After inflation began rising rapidly, the Central Bank of Russia raised interest rates—even though economic growth remains weak. Despite a recovery in the country's international reserves, Prime Minister Vladimir Putin has frozen tariff hikes and restarted the privatization programme.
All the emerging market countries are constantly having to convince the financial markets that they are running their economies in a prudent and sustainable way—although this is increasingly obvious—and they pay a premium on their borrowing simply because they are young markets. Meanwhile, countries like the United States and the UK get a discount because they are mature markets that have paid their debts in the past. As demonstrated by the problems in Greece, this policy of basing current policies on past behaviors is breaking down.
At some point prices will reconnect with reality, because this is what happens to all bubbles. Then, the short-termism of the central banks in the west and the increasing professionalism of those in emerging markets will become evident—and it is likely to result in a big mess for those on the wrong side of the divide.
All rights reserved by Rossiyskaya Gazeta.