The Russian formula for happiness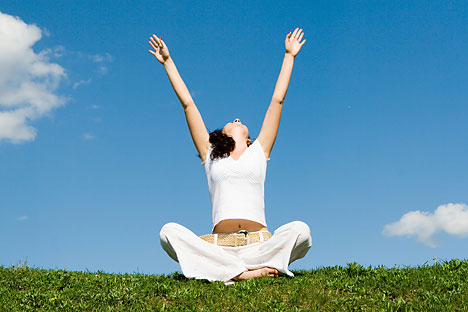 Source: Reuters/Vostock photo
Why does Russia rank so low in international ratings of happiness? It takes a team of psychiatrists to explain.
One day in April, an acquaintance invited me to attend an unusual event: a practical psychology festival called Planet of People. "Let's go, it'll be interesting," she promised. The surprises were not long in coming. To begin with, I was stunned by the scale of the festival: The organizers had managed to gather 258 psychologists from Russia, Europe, the United States, Canada and Israel. Over the course of the festival's five days, they conducted some 300 trainings and master classes. And, most important of all, the luxury of rubbing shoulders with all these psychologists was absolutely free.
The organizers explained that the festival's main goal was to bring psychologists together with potential clients. In Russia the services of psychotherapists are not in great demand. The phrase "personal psychoanalyst" is more associated with a Hollywood film than with real life. According to a recent opinion poll by VTsIOM, when confronted with a difficult situation, most Russians prefer to go to friends, relatives or colleagues for advice; or if worst comes to worst, they'll solve the problem on their own. Only 2-3 percent of the respondents said they would consult a psychotherapist.
Still, that last statistic is hard to believe, given the hordes of people who turned out for the practical psychology festival. On the third floor of the Russian Academy of Sciences—where the forum took place—there was hardly room to breathe. Although it's possible that many also were drawn by the free admission as going to see a psychotherapist costs a pretty penny.
There were so many interesting topics, I didn't know where to look first: I wanted to "change the past" and "reach my full potential" and "make my dreams the reality" all at the same time; and I wanted to "talk to my body" about improving my health. In cases like these, it's better to pick one thing, preferably something global, like a "discussion about happiness."
I wasn't the only one looking for happiness: 40 minutes before the discussion began, the auditorium was jammed. I wiggled into the last free seat. The 40 people who arrived after me had to stand around the edges of the room. The discussion was led by Olga Troitskaya and Natalia Tumashkova, both members of the festival's organizing committee, and by Ekaterina Mikhailova, a professor at the Moscow Psycho-pedagogical University. Some people had come especially to hear them. "I attended their lectures a few years ago and liked them a lot," the man sitting on my right told me. He had brought his girlfriend; she was about half his age, so his therapy sessions must have done some good.
Still, the moderators began by saying that they did not intend to dispense recipes for happiness. In the opinion of Ekaterina Mikhailova, "The idea of raising happy people like broiler chickens is simply monstrous," while the myth that says that if you do everything right you'll be happy is destructive. The audience was soon drawn into the discussion—everyone had something to say. Opinions were divided: One part of the audience maintained: "A person does not need to go out and look for happiness since he already has everything inside him." Another part insisted: "If we knew from the beginning that we have everything inside us, we wouldn't do anything. But since we don't know, we suffer many hardships in life and come to understand that this is happiness." Russians imbibe this attitude with their mother's milk, thanks to Russian literature. Happy people, as we know, are few and far between in the Russian classics. And if in the end a character does find the happiness he or she deserves, like Natasha Rostova in War and Peace, then it comes only after all manner of physical and moral sufferings.
I too wanted to ask the learned ladies a question, not a personal one, but in the name, so to speak, of all Russians. I have long been disturbed by Russia's consistently low rating (around 150th) on the international happiness scale. I wanted the opinion of professionals: Are Russians really that unhappy or does this have to do with our tendency always to play things down?
The experts all favored the second explanation. "For a Russian to say to someone he doesn't know that he is happy is equivalent to showing himself to be an idiot. We are complicated, after all; that means we must have problems. Not to have them is almost indecent," said Natalia Tumashkova. She imagined that the ordinary Russian would probably answer the question of whether he was happy or not as follows: "Now, sir, let's first define what you mean by 'happiness.'" After that, the pollster compiling the international happiness rating would probably check the box marked "Deeply Unhappy" and say goodbye.
This fruitful discussion went on for two-and-a-half hours. And none of the people forced to stand cut out early. "But you probably have families waiting at home," one of the participants joked. None of us wanted to leave. We were all too busy searching for the Russian formula for happiness. And we found it, as it always happens, completely unexpectedly. The discussion had finally wrapped up and we were all getting up to go when a girl in glasses, evidently a student, suddenly exclaimed: "I'm so happy I had the chance to talk to such intelligent people!" Well, there you have it, Russian happiness: an animated discussion about lofty matters. From this point of view the festival was a complete success.
All rights reserved by Rossiyskaya Gazeta.