Earning money for meals on wheels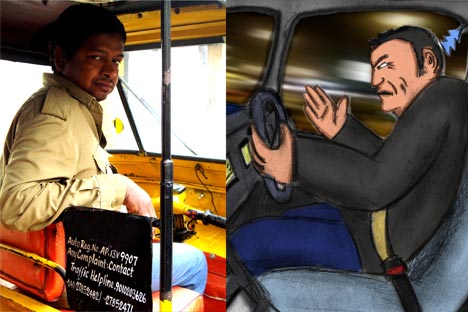 Russia and India are very different countries in every which way: territory, climate, population, religion and popular culture… And yet, are these differences really so important for people of the same profession? We are continuing our series of "Double Portraits" to investigate, and here are the next two characters: Shekar – an auto rickshaw driver – and Pasha – a so-called «bobmila»; both of them are a cheaper alternative to taxis.
Before the marrige Shekar's passion to travel has taken him to different parts of the country like Srisailam, Bider, Nanded, Tirupati and Kerala. He hesitantly admits that once his responsibilities increased his explorations have reduced. The young hidden Shekar comes out for a split second when he sheepishly admits that his only indulgence is a small drink otherwise its just the TV or watching a movie with his daughter and wife. With hope in his eyes he immediately shares that he would soon want to go for a pilgrimage to visit the Golden Temple and the Vaishnavi Devi Mandir.
Yes, of course. There are five of us: myself, my wife and three kids. The oldest is 24 and the youngest is 9. I like to go to the country with my family. I like being invited by friends to visit their dachas with their families. We sit and eat barbecues, relax, drink wine and talk in the fresh air… That's how I spend my free time. I don't like going to night clubs: I am past the age and my finances wouldn't allow me to. In general I think it's a waste of time.
Are you satisfied with your life? Do you see it in a better way?
| | |
| --- | --- |
| Though the life of the auto driver may seem carefree and easy there are a lot of health problems that affect them due to the constant exposure to pollution and the manoeuvring through traffic. Shekar complains of severe lower body pain and back pain that demands that he takes rest. Then he addes: "Everyone grumbles at rickshaw drivers, accusing them of charging too much or being too rude or causing accidents, but few know about our life. I am glad you are writing about a rickshaw driver's life. No one ever cares about what we feel and want, but all I can say is that it is a tough life; many have given up on life in their fight to survive. I think I will change my profession, there is too much of pain and no much gain, maybe I will start a new business or something", says the hopeful Shekar who suddenly looks into the morning skies as a new day rises and the sun rays shine bright on us. | Of course, not. I would like to work regular hours and have more time to spend with my family. I am a professional driver but, if I got a job at an official taxi company, I would earn much less than doing my private business. So, I have to work until late just to be able to feed and raise my children. Russia is a very rich country but all the riches belong to a very small group of people. And my children are as good as those of politicians and celebrities. Eventually popular anger will reach critical mass and evolve into something like a revolution. Then all hell will break loose." Towards the end of our conversation, Pasha's temper soured; he sounded annoyed and when I took out my camera, he protested vehemently: "Cut it out. I don't like being photographed." I realised that this was also part of my interview and said goodbye. There was no joy in his face. He was going to rejoin his wife and hungry children to snatch some sleep before going to work tomorrow. |
All rights reserved by Rossiyskaya Gazeta.