Russia calling: Get a degree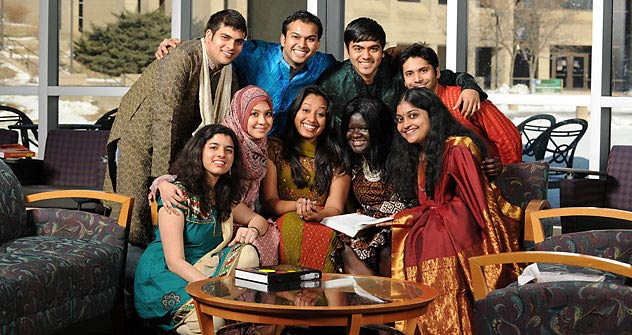 It is the summer of rediscovering Russian education in India as major cities host education fairs.

More Indian students are traveling to Russia for a degree. This month, major Indian cities like New Delhi, Chennai and Ahmedabad hosted Russian higher education exposition-fair where students could decide what course suits them best. The fair is due to be held in Kolkata, Mumbai, Hyderabad and several other cities.

Exhibiting at the fair are famous Russian education brands: Moscow Institute of Aviation, Moscow Institute of Economics, Tver State Medical Academy, the Volgograd, Rostov and Bashkiria medical universities, St. Petersburg Medical Academy and People's Friendship University in Moscow.

The expo-fair was organised by the agency Rossotrudnichestvo, the Russian Center of International Education and the Association of Russian Institutions of Higher Learning Working in India — with the support of the Russian Embassy in New Delhi.

"The aim of this fair is to present the entire spectrum of possibilities offered by our education market," says Mikhail Kalinkin, rector of the Tver State Medical Academy. "Every year, some 200 to 300 students from India come to Russia and this figure will increase in proportion to the development of Russian-Indian multilateral collaboration," says Kamruzzaman Saied, Director of the International Center of Russian Education.

This year, Russia awarded more full-tuition scholarships for which Indian students are also eligible. Last year there were only seven such scholarships; this year there are 42.
Advantage Russia: Pay less for the same degree
Tuition fees at the University of Cambridge in England range from £9,000 per annum for a theory course to £22,000 per annum for a clinical practice course. At Oxford Brookes University, one would pay £10,500 for a bachelor's degree course and £10,500-£12,000 per annum for a master's degree course. The average cost of studying at Long Island University in New York is $36,000 per annum. Russian universities, in comparison, is easy on the pocket. For instance, a foundation course at The Peoples' Friendship University in Moscow (PFUR) in Moscow costs $4,000. The standard annual tuition is $5,950 for a course in general medicine, $6,150 for a dental course and $4,500 for a course in pharmaceutical medicine. Standard course fees at the I.M. Sechenov First Moscow State Medical University range from $3,250 to $5,500 per annum. The least expensive course is in pharmaceuticals, followed by general medicine and dentistry, the last of which is traditionally the most expensive degree. You can get by on $400-500 per month even in Moscow. This includes food, mobile phone bills, transport and daily expenses. Food at student canteens is not cheap but it is certainly much less expensive than at city cafes.
However, the head of the culture section at RCSC Elena Shtapkina noticed, that there are certain problems. For example, there is a single standard form that must be filled out by all foreign students who would like to study in Russia. But different colleges in India have different grading systems. In one college the highest grade is, say, 9, while in another, it's 10. Therefore the very best students (that is, those students preferred for full scholarships) may have different grade point averages on their transcripts, thus making for confusion.

Moreover, the accepted system of enrolling students does not take into account certain aspects of life in India: the absence of a universal passport system — this year young Indians will have only three weeks in which to gather the necessary documents. And not all of them will manage to apply for and receive a passport and a birth certificate in that time. Some Indian students may simply not have these documents.

Another problem is the language barrier. Students applying to study in Russia are required to fill out the application in Russian, which, of course, many Indians do not speak. Russian institutions of higher learning that would like to receive foreign students ought to open English-language web sites, RIR's sources said. And this should not be dry information. These sites should be lively, with forums, discussions and the possibility of asking questions. For instance, Indian students who are considering going to Russia to study want to have the chance to talk to other Indians who are already studying there or have even finished their studies. They want to know what Russia is like and what sort of a career they can aim for after graduation. Russia's Western competitors in the area of higher education created these Internet resources long ago.

In order to help in filling this gap the Russian Center for Science and Culture in New Delhi organizes meetings between Indian students of Russian universities and institutes and Indian students who have just enrolled to study in Russia.
The next such meeting is scheduled for June 30.
Indian students are upbeat about medical colleges, job prospects; admire Russian culture


Dinesh Chakraborty: 'I sailed through everything'
"Having lived in Russia, I can say that it is a wonderful country; such an interesting mix of Europe and Asia," says Dinesh Chakraborty, a sixth-year student at I.M. Sechenov First Moscow State Medical University. He admits that cheaper education was the main reason he chose to attend a university abroad. The entrance exams proved to be easier than he had expected: 40 minutes were all he needed to complete his assignments.

"Many of my classmates said that they had found the exams difficult, but I sailed through everything, perhaps thanks to having studied chemistry, biology and physics very hard while in secondary school," says Dinesh. Exams in these subjects are taken as a part of the admission process at medical schools. Physics is the only subject you do not have to take an exam on at some universities. A Russian language exam, however, is mandatory for everyone.

If a university offers courses in English, it costs $1,000 per annum more, but, on the other hand, you can skip your first year of foundation courses. This was the option Dinesh chose. After he completes his general medicine degree, Chakraborty is planning to specialise in public healthcare. "This is a new major and involves a lot of administrative work. It does, however, draw on concrete knowledge in practical disciplines."

Russian universities offer students three main disciplines. A degree in pharmaceuticals can take five years. The degree for this course can feature such majors as pharmaceutics or medicinal production technology. The general medicine course takes six years. General practitioner's training is followed by a clinical internship and further clinical traineeship (one year and two years, respectively) that allow students to specialise in their chosen field. Internships are normally suitable for specialising in the most popular fields, such as general medicine, surgery, paediatrics, obstetrics and gynaecology. A further clinical traineeship allows students to access a wider range of fields (featuring over 100 majors), including the so-called "elite" professions such as cardiovascular and maxillofacial surgery, as well as psychiatry.

The dentistry course is completed over five years. Specialist training, for instance, in periodontology also follows this general degree course.

Experts believe that serious discrepancies between the Indian and Russian medical training systems was the main reason why the flow of Indian students to Russian universities started ebbing in the 1990s. In India, general medical training and a bachelor's degree (Bachelor of Medicine or Bachelor of Surgery) can be obtained in five years. The Doctor of Medicine title comes with a degree that takes another three years to complete. A Russian university course in general medicine takes six years and gives you a MD degree, but the course involves many more disciplines and academic hours. Following a compromise reached by both countries' ministries of education, Russian universities are expecting an increase in the number of Indian students.

Practical training is normally carried out at the hospital: students start learning the ABCs of working with patients during their very first years of university. At first, this involves the not-so-pleasant work of being a hospital attendant.

But every doctor has to be "educated by adversity". The 3rd year involves feldsher (assistant to a medical doctor) training, followed by years four, five and six spent almost entirely at clinics, where students learn to make decisions in more serious circumstances under the supervision of their advisors, who are at the same time practicing doctors. Interns are said to almost "live" at the hospital while honing their skills in their chosen field.


Kishore Repaswal: 'It wasn't difficult to find a job'
The language barrier, however, makes hospital work a tall task for foreign students. In 2003, Kishore Repaswal graduated from PFUR after completing his traineeship; he got his doctorate in 2004. He is now a neurologist at a large medical centre in Moscow. "Our practical training was provided at a hospital but unfortunately, patient contact was a struggle. Sometimes, we just could not understand each other. That's when our Russian professors would come to the rescue".

Having finished his education, Repaswal went back to India and worked for two years. After that, he found himself in Russia once again: "I like the climate. I certainly admire the Russian culture. I have a lot of doctor friends, which is why it wasn't difficult to find a job here. "Once they return to India, medical doctors fresh out of school have to get their qualifications verified by the Medical Council of India, i.e. take qualifying examinations.
---
Read more on the topic: Reforming for 
a globalised world
All rights reserved by Rossiyskaya Gazeta.