Maria Sharapova takes a shot at Roland Garros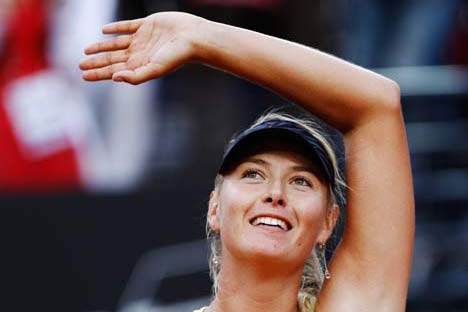 The most celebrated Russian tennis player wants to complete her collection of trophies by winning the 2011 Grand Slam event in Paris.
The former top-ranked female tennis player in the world, Maria Sharapova, may be within reach of regaining her position. After a prolonged absence from the Grand Slam circuit due to injury and the search for a new playing style, the Russian is again a member of the tennis elite. After not winning a tournament for an entire year, Sharapova finally took top honors in Rome in mid-May.
"I haven't said my last word in tennis," said Sharapova at the start of this season, and her goal for the summer seems to be a victory in the French Open.
Sharapova has won three of the four Grand Slam tennis tournaments— Wimbledon, and the U.S. and Australian Opens—but she has yet to win top honors in Paris. Although many tennis experts are skeptical about her chances on the clay courts of Roland Garros, she made a strong claim for her abilities in Rome, where she won the third clay court title of her career. For the win, Sharapova beat none other than Caroline Wozniacki of Denmark, currently the world's top-ranked player.
Perhaps the time has come for Maria's second winning streak. Consider the facts: Sharapova's permanent rivals, the Williams sisters, have withdrawn from the Paris tournament because of injuries and illness. Belgian Justine Henin has retired. Another Belgian, Kim Clijsters, rarely plays and it is unclear whether she will take part in the tournament. That leaves the reigning French Open champion, Francesca Schiavone of Italy, number one seeded Caroline Wozniacki and Russia's Vera Zvonareva. They are all strong opponents, but nothing Sharapova can't handle. Paradoxically, as Sharapova matures, her tennis remains basically the same.
Dossier
Maria Sharapova, Russia, professional tennis player since 2001.
Born on Apr. 19, 1987 in Nyagan, Tyumen Region.
Residence: Brandenton, Fla, United States.
Height: 188 cm, weight: 59 kg, right-hander.
Current WTA ranking: 7, top ranking number 1 (from 22 August 2005).
Number of titles: 23.
Total career prize sum: $14,738,611
Personal. Her fiancé is 27-year-old basketball player Sasha Vujacici of Slovenia, who plays for the Los Angeles Lakers. A wedding date has yet to be announced.
"The Siberian siren," a nickname Sharapova earned because of the grunts with which she accompanies her strokes, has come to perceive her setbacks in a philosophical way. "This is not the end of the world," she is known to say after a lost match. Of course, such an attitude should be easy for the world's richest athlete. Last year, Sharapova earned $24.5 million from tournament winnings and advertising fees.
But Sharapova is more than a good tennis player. She engages in charitable activities and is also seriously interested in fashion and design and spends a lot of time in the kitchen.
During her enforced period away from tennis, Sharapova became interested in various foods and even bought a cookbook by Jose Andreas titled "Made in Spain." When she visited his restaurant in Los Angeles, she asked for an autograph for the first time in her life. Since then, Sharapova has worked hard to improve her cooking skills. Now, her fitness specialist, a Spaniard, praises her gazpacho.
"It's all improvisation," Sharapova said, discussing her cooking. Like in tennis, she is trying to make her own contribution, not just play by the book.
All rights reserved by Rossiyskaya Gazeta.