Getting Afghanistan inside SCO tent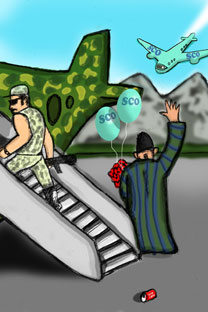 If there is one key word in the documents adopted by SCO foreign ministers at their meeting in Almaty recently, it is "Afghanistan". It is this country that is about to usher in a totally new stage in the development of the Shanghai Cooperation Organisation. An Afghanistan without US or NATO troops will be a completely different country -- not necessarily more safe or more comprehensible than it is now. Just different.
The SCO is now a classic international regional organisation along the lines of the ASEAN in South-East Asia or the MERCOSUR in Latin America. Its meetings bring together heads of state and government, defence ministers and drug lords, bankers and ministers of culture, and programmes are underway to establish common security and cooperation areas in the Central Asia region. Fully-fledged SCO member states, including Kazakhstan, China, Kyrgyzstan, Russia, Tajikistan, and Uzbekistan, are entirely or partially situated in this region.
This time around, the SCO summit will be held on June 15 in Kazakhstan's capital Astana, rather than in Almaty. The Almaty meeting has prepared a large set of documents, including a draft of the future Astana Declaration and an anti-drugs strategy. Russian Foreign Minister Sergei Lavrov announced that Afghanistan requested an observer status several days ago. "This matter will be considered at the upcoming summit," he announced.
A decision on admitting new members and observers may be taken at the summit. Afghanistan has enjoyed a special status within the SCO to date and its President, Hamid Karzai, has been attending the organisation's summits as a guest. That is, it does not have observer status like India, Pakistan, Iran, or Mongolia. Historically, it was Afghanistan which triggered establishment of the SCO in the first place ten years ago in Shanghai. By the summer of 2001, all SCO countries were facing a common threat – the Taliban regime was in power in Kabul. Threats bring people together, so it was decided to create a full-scale SCO, just as a number of South-East Asian states created ASEAN in 1967 – essentially to fend off the Communist threat emanating from China, which was then in the throes of the Cultural Revolution.
In the summer of 2001, Taliban preachers crossed the Afghan borders with Uzbekistan and Tajikistan, and created many subversive organizations. In theory, terrorists could have come to power in Tashkent or Dushanbe. An "SCO decision" had barely been made when 9/11 happened, and Afghanistan saw a large influx of US troops. The situation had changed dramatically.
I was lucky to witness first-hand the truly historic session of SCO foreign ministers in Beijing in January 2001. At stake was whether the SCO was needed at all amid the new developments. And the answer was: it was needed more than ever. Otherwise, the Central Asian countries would end up like Laos or Cambodia during the Vietnam war, with the US and others pulling them apart, overthrowing their regimes, and setting up military bases there at will, without asking permission…
And here we are, at the end of an era. The US and NATO are to pull out of Afghanistan. Perhaps even out of Pakistan, too. This process may be short or protracted but they will, eventually, leave. And judging by what is going on inside Afghanistan, it will become an arena for competition or coexistence of the interests of China, India, Pakistan, probably Russia, Uzbekistan, and some other countries, too. Preparations must be made for this new era.
Admitting new members to the SCO will be quite appropriate under the circumstances. And the key issue is not Iran, which has long wanted to join the SCO. As Tehran's policy softens and becomes more transparent over its nuclear programme, Iran will be admitted to the SCO because it is a real partner for numerous countries in the region.
Against this backdrop, it clearly no longer makes sense to keep India and Pakistan at the SCO's doors, even though China has been objecting to India's bid to join it. Otherwise, at least two regional powers will be pulling Afghanistan in opposite directions, and who needs that? And as we can see, all is clear regarding Afghanistan. It will first become an SCO observer and then a member. If only because the SCO's anti-drugs strategy, a key issue for the organisation, is unlikely to succeed unless Afghanistan is included in the regional cooperation structure.
All rights reserved by Rossiyskaya Gazeta.