IMF Chief's post not only for Europeans - BRICS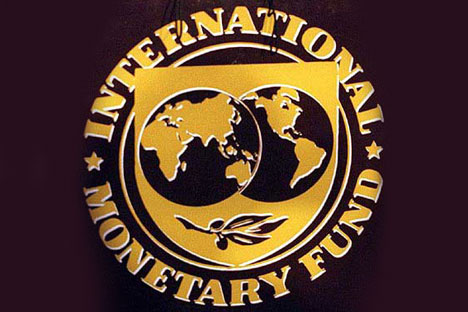 Brazil, Russia, India, China and South Africa have criticized the EU officials in a joint statement on May 24 for suggesting the next IMF head should automatically be a European.

The BRICS said the choice should be based on competence, not nationality, and called for "abandoning the obsolete unwritten convention that requires that the head of the IMF be necessarily from Europe."

The joint statement by BRICS countries is a sign of a normal competitive fighting for the right to influence the decision making process in the IMF, Vladimir Golovnev, Deputy head of the committee on economic policy and entrepreneurship of the State Duma, the lower house of the Russian parliament, said in an interview with the "Voice of Russia".
"As the countries which such rapidly developing economies BRICs countries have the right to express this a position They want to influence the election of the new IMF head. The IMF disposes of colossal financial resources and has options to raise the "political weight" of BRICS countries as well."

Brazil, Russia, India, China and South Africa have managed to get over the global financial crisis earlier than many other countries avoiding serious losses. This is an argument in favor of the IMF's reform, which should reflect the growing role of BRICS in the global economy.

The Organization for Economic Cooperation and Development (OECD) which comprises the EU, the US, Japan, South Korea and Australia is often called the club of rich countries. OECD countries have urged the IMF to consider the candidacies of non-Europeans for the post of the IMF Chief. At the same time they said that consider the French Finance Minister Christine Lagarde to be an excellent candidate for this post.

Other possible candidates are the Turkish Finance Minister Kemal Dervish, heads of the Central banks of Israel, Germany and Mexico Stanley Fischer, Axel Weber and Agustin Cartstens.

The CIS countries have recommended their single candidate proposed the chairman of the National Bank of Kazakhstan Grigory Marchenko.

The countries of Association of South East Asian Nations plan to recommend their single candidate for the IMF post as well. It is not excluded that the countries of South America will also add their candidate to the short list.

All these countries stress in their statements that they wont try to set Asian people or South American people against European of the US citizens.

G20 leaders speak for the transparency of the election of the IMF's head saying that it should be one of the main terms of the reform of this institution.

Arkady Dvorkovich, the aide of the Russian president Dmitry Medvedev, said that the appointment of the new IMF's chief will be informally discussed at the G8 summit, which opens on Thursday in the French city of Deauville.
All rights reserved by Rossiyskaya Gazeta.