IT TATA subsidiary enters Russia market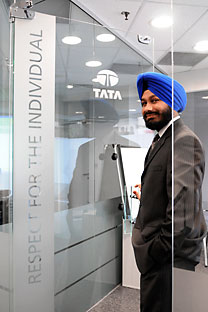 A subsidiary of the Indian consortium Tata, which specializes in solutions for the banking sector, is now entering the markets of Russia, Ukraine and Belarus. Tata Consultancy Services has signed a partnership agreement with the Russian integrator Universal KUBE. The partners' first client was Binbank, which introduced Tata's automated system.
Tata Consultancy Services entered the Russian market with a platform developed specially for Russian banks. The management at Tata decided that it would be more effective to sign a partnership agreement with the Russian company Universal KUBE than to open their own office in Russia. According to a source on the market, the development of a comprehensive solution for the Russian market took two years, while a license cost Tata's first client in Russia — Binbank — $10 million.
According to Sergei Vikhrov, general director of Universal KUBE, "within the framework of the agreement Universal KUBE will be responsible for marketing on the local market, will have the right to introduce technology and overall will act as intermediary between Tata and Russian banks. As profit, the Russian side will receive commissions on deals to buy licenses for software."
"In the near future we anticipate an increased demand for TCS products from financial organizations in Russia, Ukraine and the Republic of Belarus," said Ganapati Subramaniam, president of TCS Financial Solutions. "Tata chose Universal KUBE as its partner in Russia because it possesses unique expertise in introducing and accompanying different banking platforms and at the same time has an excellent knowledge of our products, which will represent our interests in CIS countries."
"Banking systems are one of those rare instances where Russian producers do consistently well against Western competitors. They are helped in this by the Central Bank with its unique accounting system unparalleled in the world, which also changes regularly. Thanks to this feature, Western automated banking systems are introduced in Russia with difficulty, even in foreign banks. Although bankers very much want to have a Russian banking system in place right away," said Vladimir Nekrasov, general director of Contour Components. Western systems often turn out to have been designed a decade ago, their architecture is outmoded and their technological solutions are less than ideal compared to Russian-developed equivalents. On the other hand, they have what Russian business in general and Russian banking in particular badly need: business processes that have been calculated down to the last detail, and methodologies that have been carefully thought out and materialized. "Over the last few years this market has been the site of an epic battle for clients between Russian and foreign vendors," Vladimir Nekrasov summed up.
All rights reserved by Rossiyskaya Gazeta.