Investors beat a path to Africa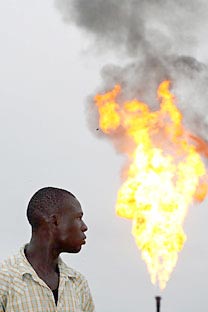 Russian companies have intensified their efforts to tap Africa's mineral resources, according to the African Development Bank.
Despite competition from international hedge funds, state banks and natural resources companies to buy up African assets, analysts say it is not a global power play. Max King, an investment strategist with UK-based Investec Asset Managers says the acquisitions are driven by straightforward business incentives.
"The world is witnessing massive investment across the emerging world and people are pretty slow to realize that it is not just the China story," he said. "These companies (from BRICS countries) look at the global opportunities. African growth is faster, although the overall economies are smaller. They are simply seeking to make a bigger profit."
Africa accounts for almost ten percent of the world's proven oil reserves and close to eight per cent of global gas deposits, while Russia is struggling with a depleted mineral reserves base.
Renaissance Capital CEO Stephen Jennings set out the case for African investment at the Pan-Africa Investor Conference in Lagos last week.
"Today eight of the 20 fastest growing economies in the world are from Africa, where economic growth has averaged 6 per cent over the last decade, greater than that enjoyed by India between 1995 and 2005," Jennings was quoted as saying on the Renaissance Capital website.
The International Monetary Fund places Liberia, Ghana, Ethiopia, Botswana, Mauritania, Angola, Tanzania, the Congo, Uganda, Niger, Libya and Mozambique among the 25 fastest-growing economies in the world over the next five years.
Russian companies are already operating in most of these countries. The aluminium giant Rusal has deepened its already strong presence on the continent. After having acquired a majority stake in the Aluminium Smelter Company of Nigeria last year, the Russian corporation plans to launch a bauxite-alumina complex with a capacity of 2.8 million tonnes per year. According to RIA Novosti, it also plans to build a bauxite facility in Cameroon.
Lukoil is exploring a hydrocarbons opportunity in Ghana and Ivory Coast. Sintezneftegaz, the exploration company known for its involvement in Barents Sea shelf project, will be looking for oil in Namibia.
Meanwhile political instability in North Africa is holding back some ambitious trans-African projects, where Russia has signed intentions papers. Among them is RZD's project to take part in a railway along the Mediterranean coast to connect Tunisia and Egypt. The fate of Gazprom's project with the New Nigeria Development Company to bring Nigerian gas through Niger and Algeria to Europe is also unclear – Total of France was to have taken part.
Russian companies have plans beyond just energy. The huge opportunities in Africa's consumer sector are illustrated by the jump in telephone penetration from 2 per cent to 37 per cent in the past decade, according to the Pan-African conference data. And to address a need for housing Renaissance Partners pioneered on Kenyan soil a development project to build a city for 63,000 residents on the outskirts of Nairobi.
All rights reserved by Rossiyskaya Gazeta.