Results of HeliRussia 2011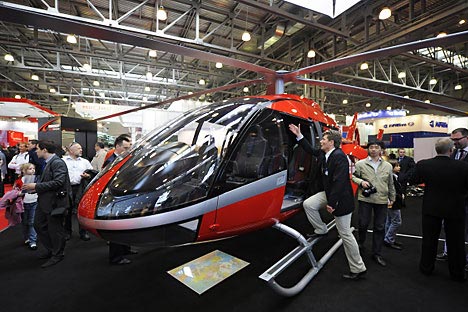 The fourth international helicopter industry exhibition HeliRussia-2011, organised by the Russian Industry and Trade Ministry and Russian Helicopter Systems, was held in Moscow on May 19-21.
HeliRussia is the only exhibition in Russia that displays the entire range of products and services offered by the helicopter industry: from design, manufacturing and modernisation to operation and mass production.

The Russian Helicopters, JSC, which is part of the Oboronprom United Industrial Corporation, presented samples of its new helicopter equipment at HeliRussia-2011 as well as production models of its civilian and military helicopters. Visitors and aviation experts were shown the second prototype of the new Mi-38 medium transport helicopter, which completed its first long-distance flight from Kazan to Moscow in autumn 2010. The second prototype of the Mi-38 is equipped with XPW127/5 turboshaft engines produced by Pratt & Whitney Canada as well as modern integrated onboard avionics IBKO-38 built by Transas, in which the "glass cockpit" principle was implemented. The helicopter can also be equipped with the Russian engines TV7-117V. The Mi-38 is a new generation machine, capable of ensuring the highest level of safety and comfort standards among helicopters in its class.
The main focus of the Russian holding's exhibition was the Ka-226T light helicopter, equipped with coaxial rotors and twin Arrius 2G gas turbine engines produced by France's Turbomeca as well as Russian-produced VR-226H gearboxes. This marks the first time Arrius 2G engines have been installed on a coaxial rotary-wing machine. The Ka-226T is a unique example of successful international cooperation, providing potential clients with an expanded range of capabilities for precision manoeuvring, climb capacity and flight altitude. These technical solutions ensure the Ka-226T has unprecedented flight safety: even with just one working engine, it has the backup power to perform all necessary manoeuvres (up to 750 h.p.). Certification testing and preparations for the mass production of the Ka-226T are to be completed in 2011.
In addition, the visitors to the exhibition were able to see a new modification of the Ka-32A, the multipurpose rescue helicopter Ka-32A11BC. Along with the second Ka-32A11BC fire-fighting helicopter, this machine, which is equipped with a water cannon for horizontal fire suppression, on the eve of the exhibition was transferred to the Ministry of the Russian Federation for Civil Defence, Emergencies and Elimination of Consequences of Natural Disasters (EMERCOM of Russia). Numerous experts call the Ka-32A11BC one of the best fire-fighting helicopters in the world. According to operator companies, this helicopter is used in many countries to extinguish fires, maintain public order, assist in the rescue and evacuation of the sick, wounded and victims of natural disasters as well as special operations by law enforcement agencies, and to patrol state borders.
The Russian Helicopters, JSC also displayed a number of mass produced civilian machinery such as the Mi-8/17, Mi-26T, Ka-62 and Mi-34C1 and the Ansat. Visitors were able to learn about the latest combat helicopters, the Ka-52 Alligator and the Mi-28N Night Hunter, which had been the main focuses of previous HeliRussia exhibitions.
The Russian Helicopters, JSC Director Dmitry Petrov says the holding's order book is currently comprised of more than 1,500 machines. At present, Russian Helicopters accounts for 13 per cent of the global fleet of rotary-wing aircraft. Petrov also spoke about the holding's programme for building and developing service centres in various parts of the world. In particular, one of these centres has been opened in India this year with a similar one to be built in China next. "We are also holding negotiations with our American colleagues on opening a service centre in the Middle East," Petrov said. A centre is needed in this region because of the widespread use of Russian Mi-8/17 helicopters by the international coalition forces in Afghanistan.
Russia takes part in all helicopter tenders in India and remains on a shortlist for four of them, Petrov said. The Russian Helicopters Holding's Ka-226T has been shortlisted for a tender to supply 197 light helicopters (along with a Eurocopter model), the Mi-28N has been shortlisted for a tender to supply 22 attack helicopters (along with Boeing's AH-64D Apache Longbow) and the Mi-26T2 has been shortlisted for a tender to deliver ultra-heavy helicopters (along with Boeing's CH-47 Chinook). In addition, Russia continues to take part in a tender held by the Indian Ministry of Defence for the modernisation of 108 Mi-17 helicopters for the Indian Army and 15 Ka-28 machines for the Indian Navy. Petrov also said the holding continues to supply 32 Mi-171 helicopters to the Chinese Ministry of National Defence as well as 30 Ka-3211BC to China's Emergency Management Office in exchange for write-offs of Russian state debt.
Other contracts are also being drawn up. Russian Helicopters and leasing company VEB-Leasing have concluded an agreement on strategic partnership on the aviation market of Latin America, where interest in Russian civilian helicopter equipment is expected to increase. The document envisions the provision of leasing services to Latin American companies wishing to acquire and operate new Russian-produced civilian helicopters. VEB-Leasing General Director Vyacheslav Solovyov said that cooperation between Russian Helicopters and VEB-Leasing focuses on providing services to financially stable Latin American companies that are prepared to acquire Russian helicopters on long-term leasing conditions with the possibility of subsequent purchase.
Russian helicopter machinery is currently present in 100 countries. These helicopters are used for corporate, passenger, transport as well as search and rescue purposes, special operations, construction, patrolling and fire-fighting.
All rights reserved by Rossiyskaya Gazeta.