Sukhoi demonstrates PAK FA, MiG-29UPG to Indian delegation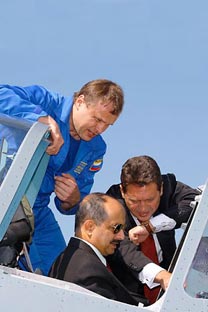 A Russian fifth generation fighter was shown to Indian Air Force Commander Pradeep Vasant Naik. Source: Sukhoi
A flight demonstration of Russia's advanced frontline aircraft system (PAK FA) and the modernised MiG-29UPG aircraft carrier-based fighter jet was held for a delegation from India led by Chief of the Air Staff of the Indian Air Force Pradeep Vasant Naik at the Gromov Flight Research Institute in the town of Zhukovsky near Moscow on 23 May 2011. The Russian officials attending the event included Mikhail Pogosyan, the president of United Aircraft Corporation and the general director of Sukhoi Design Bureau and RAC MiG, as well as representatives of Rosoboronexport and the Russian Air Force.
Work is underway on a Russian-Indian programme to create an advanced multirole fighter on the basis of an agreement signed by the Russian and Indian governments on 18 October 2007 in Moscow as part of the seventh session of the Russian-Indian intergovernmental commission on military technical cooperation. The programme represents a major project in military technical cooperation between the two countries.
Rosoboronexport, India's Hindustan Aeronautics Limited and Sukhoi signed a contract on the development of a draft engineering design for the fighter in December 2010 as part of Russian President Dmitry Medvedev's visit to India. This marked the first of a series of documents regulating the obligations of the parties during various stages of the programme's implementation. Now the fighter will be developed on the basis of the PAK FA prototype, which Sukhoi successfully demonstrated to the chief Indian Air Force commander on 23 May.
The Russian fifth generation fighter has been under development since the 1990s. The heavy fighter has takeoff weight of over 30 tonnes, is medium scale (roughly corresponding to the Su-27 aircraft), and is a monoplane with widely spaced engines and two fins with high outward projection from the longitudinal axis. The exterior of the plane was designed using stealth technology. At present, two prototype PAK FA flight models have made a total of 60 flights.
"For United Aircraft Corporation, Russian-Indian cooperation is viewed as a long-term strategic partnership based on more than half a century of experience in cooperation. We are not simply offering our Indian colleagues the best prototypes of our aviation technology as a finished product, we are dedicated to joint work between Russian and Indian enterprises and the sharing of engineering resources in the development of the most modern aviation facilities with high potential for the global market. And I am confident that the joint programmes in the area of combat and transport aviation are a launching pad for expanding cooperation in the implementation of programmes to develop civil aircraft," Mikhail Pogosyan said in conclusion at the meeting.
All rights reserved by Rossiyskaya Gazeta.