India interested in cooperation with Tatarstan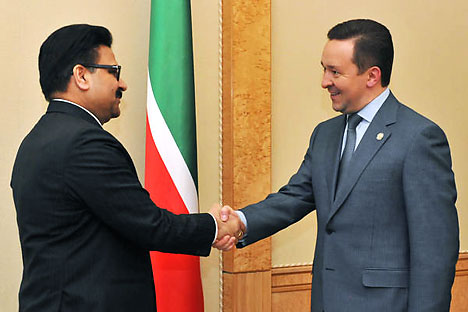 Source: prav.tatarstan.ru
India is prepared to cooperate with Tatarstan in such areas as information technologies, pharmaceutics, education and the banking sphere.
Anil Trigunayat, the charge d'affaires of the Indian Embassy in Russia, informed Tatarstan Prime Minister Ildar Khalikov of this during a recent meeting at the republic's House of Government. Trigunayat said the goal of his visit to Tatarstan was to continue cooperation and also find new areas for interaction in several industries. He noted that India and Tatarstan had signed a Memorandum of Intent in 2001 as well as an Agreement on Cooperation in scientific affairs in 2003. Contacts have now been established, he said, but the potential for cooperation is not being fully utilised.
During his talks with the prime minister, Trigunayat proposed organising a visit to Kazan by representatives of India's pharmaceutical industry for a more detailed study of possible joint projects. He also noted that several major Indian pharmaceutical companies currently have offices in Moscow, thus meetings could be arranged there as well.
As for cooperation in information technologies, Trigunayat said members of his Indian delegation were impressed with the concentration of technology parks and other infrastructure for the development of high technologies in Tatarstan.
He also expressed a willingness to seek out partners for joint projects in banking, education and science. In particular, Trigunayat stated that India implements up to 200 educational programmes per year with free scholarships, and students as well as specialists from Tatarstan could take part in these programmes, including banking professionals.
Trigunayat invited Ildar Khalikov to visit India so he could learn more about the country and outline areas for further cooperation.
Khalikov, for his part, suggested the Indian delegation give serious consideration to the Alabuga special economic zone as a potential place for doing business. He said the production of automotive components could be another area for potential cooperation.
The prime minister also noted that active construction is underway in Kazan as it prepares to host the 2013 Summer Universiade as well as the 2018 FIFA World Cup.
In concluding the talks, Trigunayat said that representatives of India and Tatarstan would also meet as part of the 15th St Petersburg International Economic Forum on 16-18 June 2011. Khalikov expressed confidence that ties between Tatarstan and India would strengthen as a result of new projects. "Such visits always provide an impetus to the further development of cooperation and growth in foreign economic ties," he said.
As part of a working visit to Kazan from 12-14 May, members of the Indian delegation visited the Kazan Helicopter Plant, took part in meetings at the Tatarstan Ministry of Industry and Trade, and also visited an exhibition called The Best of India, which was being held in Kazan while they were there.
---
Read more on the topic: Kazan: Where Europe Meets Asia
All rights reserved by Rossiyskaya Gazeta.