Tehran suggests Moscow march south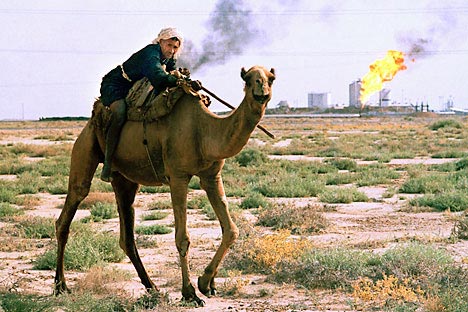 The Iranian authorities are searching for new places to export oil and gas.
Constrained by international sanctions, Iran is trying to find a way out of its current situation, which also includes counting on Russian support, and on mutually beneficial terms at that. Iranian Ambassador to Russia Mahmoud Reza Sajjadi said yesterday that his country wished to be involved in the delivery of Russian hydrocarbons in the southern direction. In addition, Iran is interested in having Russian companies take part in Iranian oil and gas projects. Experts say that, while this may not be a new proposal, it is highly promising, considering that Russian companies which do not own assets in the United States do not have to fear being subjected to U.S. sanctions.
"Iran could play the role of a country which transports Russian oil and gas in the southern direction by conducting swap operations," the Iranian diplomat said in an interview posted on the embassy's website. Sajjadi said also Tehran is interested in Russian oil and gas companies becoming involved in corresponding projects in Iran. "In addition, given our experience in cooperation with Russian companies, we believe there are prospects for our partnership, including in third countries," he said.
Experts say the proposal could be advantageous for Russian companies. "For Russia, Iran is a natural transport channel on the way to the markets of Southeast Asia and India, while the presence of rather well developed port infrastructure in the country would make it possible to bypass the volatile territories of Afghanistan and Pakistan. Setting up swaps in this case could enable both Iran and Russia to save money on logistics due to shorter transport distance for the sale of Iranian oil in the north and Russian oil in the south," said Dmitry Alexandrov, director of the investment analysis department at Univer. "In addition, Iran has a rather strong position in this matter since it is one of the key players on the European oil market, despite the sanctions, with total exports of about 113 million tonnes per year. For comparison, Russia exported about 250 million tonnes in 2010, or about half of its total production".
Alexandrov said the use of swaps is a rather specific operation, therefore its interpretation in terms of sanctions is intentionally ambiguous. "It would always be possible to enter into a long discussion, citing the lack of violations, or at least formal ones," he said. "But it's possible to work even given these restrictions. In fact, this is already taking place, as Russian companies are already working at Iranian oil fields. Ultimately, it could be possible to talk about a rather attractive scheme which has its risks and costs, but could lead to savings for both sides in handling delivery. A major plus would be expanding their presence to markets that are key for each of them".
Arbat Capital senior analyst Vitaly Gromadin noted that this idea is by no means a new one. "Given the lack of a pipeline system connecting southern and northern Iran, swap transactions have been discussed before, and frequently," he said. "Iran has been cooperating with Central Asian countries since back in 2001 on oil supplies to the northern part of the country in exchange for the shipment of the same volumes in the Persian Gulf. Therefore, the plan could be described as an entirely viable one, and Russian companies are ready to implement it in order to diversify sales". He also noted a lack of assets in the United States would lower the fear of being subjected to U.S. sanctions. "A year ago, Lukoil had to withdraw from a project to develop the Anaran section in Iran due to its interests in America," Gromadin said. "Gazprom Neft is already vying to take its place, while the parent company, Gazprom, will be interested in the South Pars and North Pars gas fields".
BKS analyst Andrei Polishchuk said the main issue here could be oil from Caspian fields, while India could become the main sales market. "The proposed plan is not likely to arouse great interest among Russian oil companies since Europe is their main sales market," he said. "But the possibility of taking part in projects in Iran could become an important factor for them. In addition, political components could also influence the decision on possible cooperation".
All rights reserved by Rossiyskaya Gazeta.