A final match not for everyone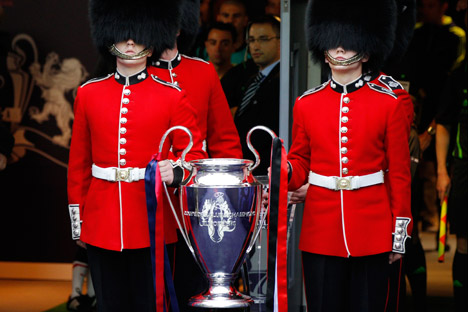 Scots Guards carry the trophy before the Champions League final soccer match between Manchester United and Barcelona at Wembley Stadium in London May 28, 2011. REUTERS/Phil Noble
Even buying tickets to the Champions League final, Manchester United vs. Barcelona, was no guarantee for some Russian fans of winding up in seats at Wembley Stadium.
It's no secret that Russia has many fans of both Manchester United and Barcelona. They have created their own fan clubs and regularly go to England and Spain to watch their favorite teams play. It's hardly surprising that they wanted to see the League final and had managed to procure pricey tickets. However, dozens of Russian fans never got to London. For a banal reason: their visas were not issued in time.
According to the newspaper Sport-Express, because of the League final, the British visa center in Moscow received many more applications than usual, and their staff simply did not have time to process all of them. Moreover, no special allowances were made for the Russian soccer fans.
Formally, the British visa center was not obliged to make such allowances. After all, a Russian club was not playing at Wembley and so Russians were not eligible for special treatment. Nevertheless, in the spring of 2008 Moscow helped out fans of Manchester United and Chelsea, and abolished the visa requirement for holders of tickets to the Champion Leagues final match. Legally speaking Moscow was under no obligation to do that. But for the sake of English soccer fans, the Russian authorities took that unprecedented step. Unfortunately, a corresponding gesture of goodwill, at least in the form of an accelerated review of Russian ticket holders' visa documents, was not forthcoming.
.
All rights reserved by Rossiyskaya Gazeta.