Celebrating Day of Russian Indologist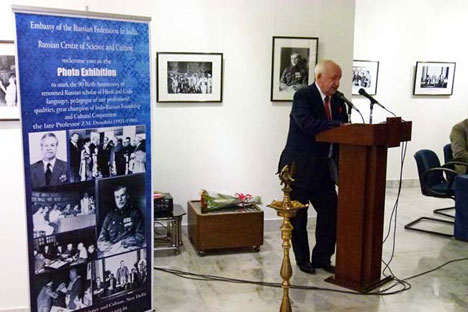 Russian ambassador to India Alexander M. Kadakin is helding a speech during the ceremony dedicated to Prof. Dymshits at RCSC on May 25 in New Delhi. Source: www.rusembassy.in
Russian ambassador to India Alexander M. Kadakin suggests making the birthday of famous scholar Z.M. Dymshits the day of Russian Indologist.

A scholar extraordinaire, a renowned Indologist, a teacher and a humanist. Russian scholar of Hindi and Oriental languages, Prof. Z.M. Dymshits, was truly a man of many parts. He was remembered fondly by his students, disciples and admirers on his 90th birth anniversary in India, the country that became his emotional and spiritual homeland. Glowing tributes were paid to this multi-faceted man at a ceremony at the Russian Centre of Science and Culture on May 25 in New Delhi, which was attended by Indian and Russian scholars, diplomats and journalists.

Russian ambassador of India Alexander M. Kadakin evocatively described Prof. Dymshits as his guru who infected him with a life-long love for India. "For me, Semyon Moiseevich was, above all, my guru – a pedagogue and a wise master who, thanks to his teaching talents and infatuation with India, not only implanted into us profound knowledge of Hindi, but to a large extent generated our interest towards this country as a phenomenon – as we joke among Russian India students – to accept this great nation as a profession and "get infected" by its beauty for the rest of one's life."

"For some people he was a close and faithful friend sharing both happy and sad moments in life, for others, including some of those present here a reliable and honest partner in joint scientific research projects, for others – a thoughtful and caring husband and father," the envoy reminisced.

Kadakin, a fluent speaker of Hindi, proposed making May 25, the birthday of Dymshits, the unofficial day of Russian Indologist. "Zalman Dymshits is the creator of basic training base course for the study of Hindi and Urdu in the country. Today, as Russia and India celebrate his 90th anniversary, we propose to make May 25 an unofficial day of Russian Indologist," said Kadakin. RCSC also hosted a photo exhibition dedicated to Dymshits. A congratulatory message from Russian Foreign Minister Sergey Lavrov was read at the ceremony. Kadakin told the audience that the Moscow State Institute has decided to establish a scholarship named Adter Dymshitz, which will be awarded best Russian students, studying Indology.

Born in 1921 in the village Yanovichi Surazh Vitebsk region of Belarus, Dymshits graduated in 1950 from the Moscow Institute of Oriental Studies. He occupies a unique place among Russian Indologists. He authored six fundamental textbooks on Hindi and Urdu, a number of dictionaries and phrasebooks. His "Textbook of the Hindi language," published in 1969, remains the definitive reference book for new generations of India scholars. One of his fundamental works – "Urdu Grammar" – was published in 2001, more than ten years after his death. Dymshits, the envoy recalled, was no armchair scholar, but was blessed with a rare talent to streamline and organise scientific research – by uniting colleagues in implementing new projects and channeling their efforts into focus areas. "Prof. Dymshits was never satisfied with anything already accomplished; instead, he would always strive to improve it and find new facets in a seemingly thoroughly studied subject," said Kadakin. He was equally esteemed by the governments of the USSR and India. In 1971, he was awarded the Jawaharlal Nehru International Prize for International Understanding. He was also conferred many Russian war and labour awards.
All rights reserved by Rossiyskaya Gazeta.