Sun Group to build housing in Russia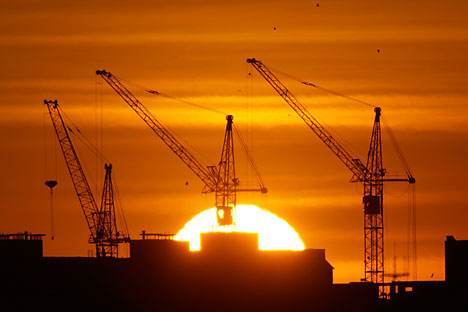 The Russian real estate market seems to have completely recovered from the economic crisis and has become appealing to prudent institutional investors who were reluctant to invest in construction even before the economic crisis. India's Sun Group, known in Russia for its energy, mining, and beer brewing projects, intends to develop affordable housing and commercial real estate here. The company is already looking for two partners from among the Moscow region's leading developers.
Sun Group announced plans to invest in Russian real estate at the Real Vienna-2011 real estate exhibition in the Austrian capital. Sun Group intends to establish a private equity fund to invest in Russian real estate; the amount of investment will be determined within a year, a company spokesman announced at the Russia–Europe. A Reset round table. Sun Group's partners in the United States, Europe, the Middle East and China have been invited to participate in the fund. According to the company's spokesman, its $630 million SUN-Apollo India Real Estate Fund has already been up and running in India.
In Russia, Sun Group intends to invest in entry-level high-rises and retail space. While its affordable housing will be limited to the capital region, plans for retail include expansion into other regions as well, provided the partner developer secures contracts with anchor tenants.
The Indians are now selecting Russian development partners. Sun Group wants to establish two joint ventures, one for housing and another for retail. Each of the JVs will include Sun Group and its partners on the one hand, and a Russian developer who will contribute project-ready land on the other.
After testing the selected local developer in a specific project, Sun Group will be ready to work with them on other projects by acquiring and developing new lots. Housing construction volumes are projected at anywhere between 200,000 and 300,000 square metres. Investors are expected to contribute 30 – 40% of the required investment for each project. For example, Sun Group and its financial partners could invest in the range of $10 – 40 million in any given housing project, with the rest coming from borrowings.
The company is now in the process of selecting "the right development products" to offer foreign investors. These include a 190,000-square metre affordable housing project in the Greater Moscow Area. Sun Group has declined to disclose the location or the developer, saying only that it's a major affordable housing developer in the regional of the capital.
The Sun Group spokesman claims that Russian housing developers earn up to 80% margins, while foreign investors would be happy with 30 – 35%. The CFO of a large real estate developer countered that such margins are unrealistic. He believes the Indians are using pre-economic crisis data that are no longer relevant. He told RBC Daily that developers currently earn margins of 10 – 12%, in line with bank lending interest rates.
Sun Group has been operating in Russia since 1958.
All rights reserved by Rossiyskaya Gazeta.