Welcome to the Ancient Russia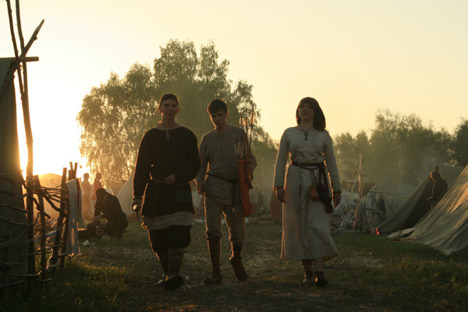 Do you want to know, how people lived in the Ancient Russia? The re-enactors can show you how...
Source: RIA Novosti

Natural dyes for clothes woven on ancient looms, weapons forged by blacksmiths, pottery made on a wheel, and "historical" cuisine – no potatoes or tomatoes whatsoever. This is daily life in the 9th through 11th centuries as thoroughly recreated by historic re-enactors. What makes people spend their free time creating authentic armor for a fight in the woods with stylized swords?
"Hey, journalist, give me the source for your spectacles," a Viking shouts out, either lost in the game of "re-enacting" a tipsy Varangian or genuinely languid after consuming too much ale and mead in the heat of the day. "If there's no source, you owe me a beer!"
The "source" means a historic treatise that can corroborate a costume detail or a custom. This is something the Rusborg festival is very serious about – a special clearance committee checks out the sources. All in all, it may be more difficult to obtain a "visa" to the 9th century than it is to a first world country.
The camp is organized along the lines of a medieval town, with tent-lined streets leading to the central square. A potter makes ceramics, a glass blower makes beads on open fire, and nearby traders hawk leather goods, jewelery, knives, and body armor – all made using centuries-old technology.
There are a total of seven historic periods to re-enact. Besides the 9th–11th centuries, there are ancient Greeks and Romans, knights, as well as the late Middle Ages, World War II, and Napoleonic wars. This strong subculture has tens of thousands of followers in Russia.
The Rusborg festival, one of its largest and best known events, will celebrate its 11th anniversary this year.
All rights reserved by Rossiyskaya Gazeta.