Butterfly effect: Nabokov's gifts 
of love for sale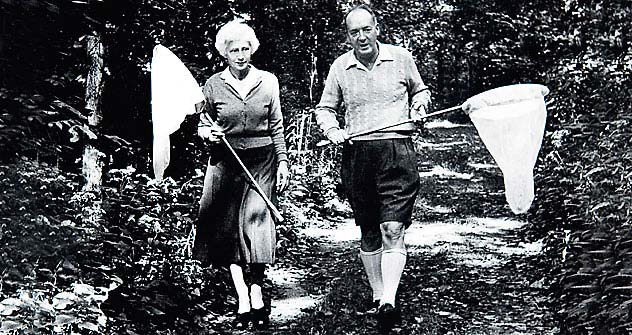 Vladimir and Vera Nabokov on the butterfly trail. Photo: Courtesy of Christie's
A rare collection of personal effects to be auctioned in London sheds new light on the life of a star of Russian and international literature.
Thirty-three years after his death in Montreux, the work of Vladimir Nabokov returns to the spotlight in an event likely to attract the attention of scholars and collectors from all over the world. On June 13, Christie's in London is to auction a collection of inscribed works and personal effects owned by the Russian-born writer's family.

It includes books signed and decorated by the author with magnificent drawings of butterflies, a passion of Nabokov from the age of nine. "What makes these books special is that they are all part of Nabokov's personal collection," said Sven Becker, a Christie's specialist.

He added: "The majority of the lots are early editions of his novels and poems that he personally gave to his beloved wife, Vera. The author didn't sign copies for strangers; so inscribed books by Nabokov are really rare and have a high market value."

Nabokov, who is best known for his controversial novel of sexual obsession Lolita , collected more than 4,000 specimens of butterflies.

He drew beautiful pictures of the insects in the books he gave to Vera and their son, Dmitry. He was wary of what he considered syrupy and sentimental expressions of emotion, so Nabokov's drawings can be seen as displaying a deep love he felt he could not express with words alone. Of particular interest are the copies given to Vera, who used to read and reread them – not the case with many signed copies of famous works, which are often left on the shelf.

Born in Russia but having lived in the United States, England, France and Switzerland, Nabokov was an international author who bridged the world's cultural divisions during the 20th century. He wrote his first nine novels in Russian before becoming a master of English prose.

"Nabokov is certainly the only author to have written books of such great importance in his native language and in a second tongue," Mr Becker said. "I've noticed that many of the Russian writers that the Western world appreciates are actually considered less desirable by Russian collectors; Dostoyevsky and Pushkin, for example. Vladimir Nabokov, on the contrary, has a great appeal for all collectors."
A butterfly drawn by Nabokov in a book given to Vera. Courtesy of Christies

The items that are due to go under the hammer at Christie's this month are divided into more than 80 lots and include personal effects such as a chessboard, a writing table and, appropriately, a butterfly net. Despite the large number of lots, the auction house says all of the items are rarities and that this is probably the last time that they will be seen together.

"Collectors believe this is a special event – we are offering the best possible books available related to Vladimir Nabokov," said Mr Becker. "Once the sale is over it is unlikely that such important examples will be seen any time soon in a public auction." Moreover, given the legal restrictions on exporting artefacts from Russia, lots that will be acquired by Russian buyers will disappear from the international market 
altogether, he noted.

Both private collectors and institutions will take part at the auction, with 80pc of the items expected to go into private hands. The high number of lots has inevitably pushed down estimates for each object, making the sale an opportunity not to be missed even by collectors and investors with limited budgets.

"From a romantic point of view," Mr Becker said, "my pick in the auction would definitely be the butterfly net."
All rights reserved by Rossiyskaya Gazeta.