Indian navy receives MiG-29s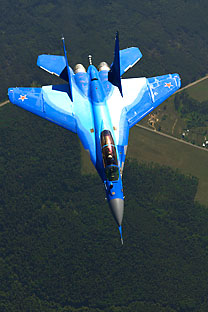 The Indian navy has received the second batch of Russian MiG-29K jets, bringing the total of its carrier-borne fighter jets MiG-29Ks to nine.
The extended range aircraft will be deployed on the INS Vikramaditya, a former Russian carrier undergoing refit for India, DDI Indian Government News reported.
The newly acquired MiGs are considered to be far superior to Indian navy's current Sea Harrier jump jets, the report said.
Under the deal signed by India and Russia in 2004, Russia is to supply 12 single-seat MiG-29K fighters and four two-seater MiG-29KUB trainer-cum-combat jets.
Russia's MiG Aircraft Corp. has delivered a flight simulator and other technical equipment to the Indian navy as part of the bargain.
In March 2010, Russia and India signed another $1.5 billion contract for the purchase of 29 additional MiG-29K Fulcrum-D carrier-based fighter jets.
Delivery of those planes is to begin next year, about the time Moscow is expected to deliver the retrofitted aircraft carrier.
All rights reserved by Rossiyskaya Gazeta.