Moscow, the great migrant magnet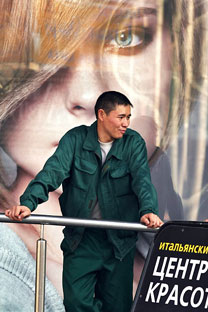 An Uzbek worker – one of many Moscow migrants. Photo: Kommersant.
A vast influx of migrants, 
legal and illegal, has defeated attempts to 
keep track of numbers in Europe's biggest city.
How long is a piece of string? or how large is the population of Moscow? you could equally ask without a conclusive answer.

Despite the best efforts of city planners, demographers and workers on the 2010 census, the most that can be established is that the metropolis is easily the largest in Europe. It is well ahead of London, which is in second place with 7.7 million residents as of 2010, according to British statistics.

The official figure for Moscow currently stands at 11.5 million (an increase from a total of 10.4 million in 2002), but uncharted migration could push the real number to as high as between 13 and 17 million, according to population experts.

The flow of migrants in recent years, legal and otherwise, comes mainly from Russia and the former Soviet republics, with people being drawn by higher salaries and better services and living conditions.

"Everything happens in Moscow, first and foremost in economic life," said Oleg Pachenkov, deputy head of the Centre for Independent Scientific Research. "We need to change the situation in other regions to move the flow of migrants away from the capital."

In this vast country with nine time zones, Moscow is regarded as a desirable place to be for a growing number of individuals and key institutions. Most state bodies, including the government, the State Duma and the Supreme Court, are in Moscow, as are the headquarters of leading businesses, which prefer to be close to the authorities.

Moscow will continue to attract high numbers of migrants so long as living standards here remain far higher han in the rest of the country, Mr Pachenkov added.

According to the Federal State Statistics Service, the average monthly salary in Moscow stood at 38,200 roubles (£832) last year, almost double the nationwide figure of 20,300 roubles.

The city now has more than twice as many inhabitants as St Petersburg, the country's second-largest city with 4.7 million, and almost eight times more than Novosibirsk, which ranks third with 1.4 million. The population growth in Moscow was the biggest among all 83 regions of the country in both relative and absolute figures, said Irina Sherbakova, who heads the demography department at Moscow city statistics 
department.

The growth is not due to higher birth rates, which have been lower than death rates for years – although births finally outnumbered deaths by 4,000 last year. "This is something that has not occurred since the Nineties," Ms Sherbakova said.

In 2010 alone, 126,000 newcomers were officially registered in the city. But in the case of Moscow, there are questions about the reliability of the October census, since many people appear not to have been polled. Respondents were not asked about their legal status during the count, and many illegal immigrants probably refused to take part, said Gavkhar Dzhurayeva, head of the Migration and Law Centre.

During a recent visit to a Moscow street, two female migrants from Uzbekistan and Kyrgyzstan said they had not even heard of the census and were not polled last October. Both are legal migrants working as cleaners in an office building.

There are, of course, no hard data on illegal immigrants in Moscow, but they are believed to number several million. Natalya Zubarevich, a social policy expert with Moscow State University, estimated their number at two to three million, while Ms Dzhurayeva said there might be as many as five million. On top of that, about 1.5 million commuters pour into the city daily from the Moscow region, with an unknown but probably high percentage staying in the city for at least a couple days a week.

As well as the need for development in the regions to stem the flow of migrants to the capital, the authorities must also work to improve Moscow's infrastructure, to prevent the current suburbs from becoming slums and ghettos devoid of social life, said Mr Pachenkov of the Centre for Independent Scientific Research.

"We must prevent neighbourhoods from existing only for sleep or consumption, ensuring that they produce something – services, culture, social services – to make a living," he said.

As well as its sheer numbers, Moscow is also noted for its gender and marital discrepancies. There were more married men than women in Moscow in 2010, the exact reverse of the situation around eight years ago, according to census data. This might be because many male migrants are married, but their wives and families reside in their home countries, experts say.

On the whole, female Muscovites outnumbered the males by 800,000 last year, up from 470,000 in 2002. This means that men only make up 46.3pc of Moscow's population. Regardless of your gender, it happens that the Russian capital is not a bad place to search for a partner: census data show that the capital boasts two million singles, split evenly between the sexes.
---
A longer version of this article was originally published in the Moscow Times.
All rights reserved by Rossiyskaya Gazeta.