Royal ale returns 
in imperial style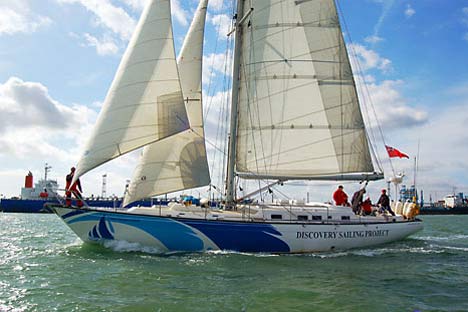 The Thermopylae Clipper. Source: www.wix.com
Once a favourite tipple of Empress Catherine the Great, British stout brewed for the Imperial Court is heading for Russia once again.
On May 16, a 60ft clipper carrying British ale set sail from London's West India Docks for Russia. After almost five weeks of travelling in chill and possibly stormy waters, 14 varieties of Russian Imperial Stout specially brewed by 11 British breweries will be delivered to St Petersburg for the first time in almost a century.

For Tim O'Rourke, master-brewer, yachtsman and event organiser, the Great Baltic Adventure has a clear aim: "This adventure is about fellowship, establishing a common bond of respect between the peoples and craftsmen of Britain and Russia. Our aim is to make links through enjoyment and pleasure."

It's a pleasure with deep roots. Russian Imperial Stout has a pedigree dating back to the 18th century. It was delivered from Britain to Russia by boat in large volumes for consumption by Catherine and her court. A brewery later opened in Russia but production stopped after the 1917 Revolution.

The distinctive flavour and high alcohol content (necessary to prevent the beer from freezing on crossing the Baltic Sea) gave the stout, or porter, some unique characteristics. "To the nose, the smell is almost vinous, to the taste, it smacks of a sweet, dry massala," says one of the brewers. The ingredients and manner in which the stout was prepared stayed constant until production was halted in the United Kingdom in 1993 because of cost-cutting and changing tastes.

The voyage hopes to revive the stout-drinking tradition and pave the way for a serious business project for small- and medium-sized British breweries with Russian partners.

En route to St Petersburg, the Thermopylae Clipper will stop over in Copenhagen, Stockholm and Helsinki, its itinerary designed to coincide with local beer festivals. After the scheduled arrival in the northern Russian city on June 15, all 14 of the stouts will be tasted and ranked by a panel of Russian brewers at the Magerfest beer festival to determine the winner. But all of the varieties are expected to go down well, 
literally.

"There is plenty of beer in Russia, but very little genuine English beer," said Viktor Spassky, the head of the Russian Trade Delegation. "The English are resurrecting old traditions and brewing good, genuine beer."

For safety's sake, a drinking ban was imposed on the boat and Mr O'Rourke says he's confident the cargo will reach its destination untouched: "The ale won't be easy to pilfer. For a start it's stowed under my bunk!"

For latest news of the voyage see www.thegreatbalticadventure.com
All rights reserved by Rossiyskaya Gazeta.