The cooperation in peaceful nuclear energy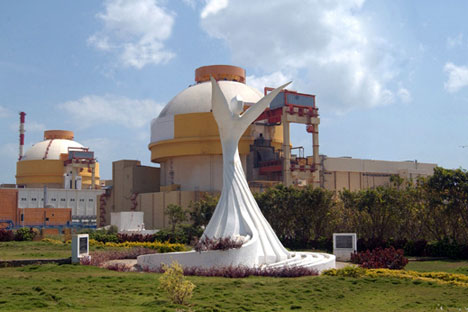 The Kudankulam nuclear power plant. Source: Rosatom
First reactor of Kudankulam NPP will go into operation in late 2011.
The first reactor of the Kudankulam nuclear power plant being built in south India with Russia's assistance will go into operation late this year, Nikolai Patrushev, the secretary of the Security Council of the Russian Federation, said here on June 6 after the talks with his Indian colleague, National Security Adviser to the Prime Minister, Shiv Shankar Menon.

Patrushev has said Russia and India have complete understanding on matters of cooperation in nuclear energy. He said after the catastrophe with Fukushima-1 NPP in Japan more attention would be given to security matters. "New approaches will now be needed to NPP security," he said. The Indian side shares this view, he added.

The secretary of the Russian Security Council stressed that all the security matters had been taken into consideration at the site for the construction of the Kudankulam NPP.

The allocation of another site for NPP construction is a question of importance to cooperation of the two countries in peaceful nuclear energy. Early this year India allocated to Rosatom corporation site for the construction of a nuclear plant in Haripur, West Bengal state, but local residents started protests against its construction. The Indian side now considers allocating another site [for the NPP construction]," Patrushev said.

According to the Russian-Indian agreements on cooperation in the peaceful uses of nuclear energy, altogether 18 reactors will be built with Russia's assistance on India's coast. Six reactors will be built at the Kudankulam nuclear plant. Another six reactors will be built at the site to be offered to Russia instead of Haripur. A third site where an NPP with six reactors will also be built has not yet been chosen.

In accordance with its large-scale program for the development of nuclear energy, India plans to increase almost five-fold the capacity of nuclear power plants to bring it to 20,000 megawatt by 2020.
All rights reserved by Rossiyskaya Gazeta.