Atomic energy to be safe and affordable, Rosatom chief says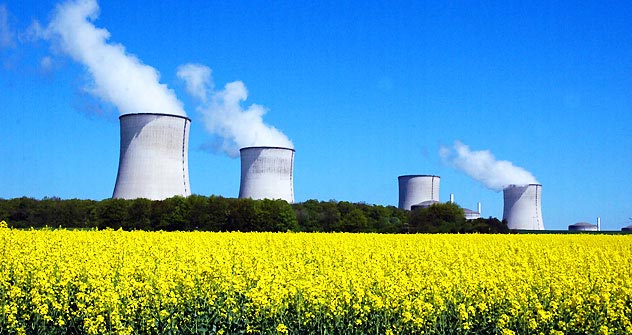 Atomic energy should be safe for people and affordable for everyone, Rosatom head Sergei Kiriyenko said.
Speaking at the third Moscow International Forum Atomexpo-2011 on Moscow on Monday, June 6, Kiriyenko said, "The number of exhibits showing achievements of the Russian nuclear industry has increased considerably from the previous years."
This year's forum has brought together the largest number of participants – 1,200 delegates from 47 countries.
According to Kiriyenko, "There is no alternative to atomic energy and it will develop by all means."
However he believes that it should be "absolutely safe" and this will require "changes to international legislation".
Kiriyenko recalled, "Such initiatives were put forth by President Dmitry Medvedev and support in Deauville."
The civil nuclear energy sector is living through a period of "renaissance", he said earlier.
"We have heard of revival in the nuclear energy industry for several years. But these words are taken in a special way today because they have past the test of the crisis," Kiriyenko said.
"Leading politicians are talking about the revival of nuclear energy again. And, most importantly, nuclear energy development programmes have not been changed in any of the countries that have announced them," he said. "It will be impossible to ensure energy security for sustainable development in the world and at the same time its environmental security in the next several decades without developing nuclear energy."
"This means that the number of nuclear power plants under construction and the number of countries making decisions on the development of nuclear energy will continue growing every day," Kiriyenko said.
In 2006, Rosatom announced a target of nuclear providing 23 percent of electricity by 2020 and 25 percent by 2030, but 2007 plans approved by the government have scaled this back a little, and in 2009 it was pruned back more.
In July 2009, a revised federal target program for 2010-2015 and until 2020 was approved and signed by the Russian president. Projected federal budget funding was reduced to 110 billion roubles (about 3.5 billion U.S. dollars), apparently for 2010.
In February 2010, the government announced that Rosenergoatom's investment program for 2010 amounted to 163.3 billion roubles, of which 53 billion roubles would come from the federal budget. Of the total, 101.7 billion roubles is for nuclear plant construction, almost half of this from Rosenergoatom funds.
Rosatom is also planning to construct seven or eight floating nuclear power plants by 2015. After many years of promoting the idea, Rosatom approved construction of a nuclear power plant on a barge to supply power and heat to isolated coastal towns. The contract to build the first unit was let to the Sevmash shipyard in May 2006, but in August 2008 Rosatom cancelled the contract and transferred construction to the Baltiysky Zavod shipyard at St Petersburg.
Since 2001, Russia has been a lead country in the IAEA Project on Innovative Nuclear Reactors and Fuel Cycles. In 2006, Russia joined the Generation-IV International Forum, for which NEA provides the secretariat. Russia is also a member of the NEA's Multinational Design Evaluation Program that is increasingly important in rationalising reactor design criteria.
According to the World Nuclear Association, nearly 440 nuclear reactors produce electricity around the world. More than 15 countries rely on nuclear power for 25 percent or more of their electricity. In Europe and Japan, the nuclear share of electricity is over 30 percent. In the U.S., nuclear power creates 20 percent of electricity.
Around the world, scientists in more than 50 countries use nearly 300 research reactors to investigate nuclear technologies and to produce radioisotopes for medical diagnosis and cancer therapy. Meanwhile, on the world's oceans, nuclear reactors have powered over 400 ships without harm to crews or the environment.
Many countries have a strong commitment to nuclear power. Among these are China, India, the United States, Russia and Japan, which together represent half of the world's population. Other nations -- such as Argentina, Brazil, Canada, Finland, South Korea, South Africa, Ukraine, the United Kingdom and several other countries in Central and Eastern Europe -- are acting to increase the role of nuclear power in their economies.
All rights reserved by Rossiyskaya Gazeta.