My Maya: a life's dance,
 a life's music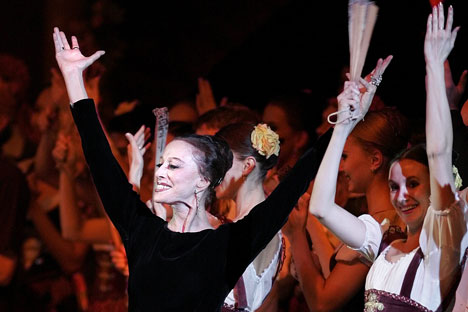 Maya Plisetskaya celebrated her 80th birthday on stage in Moscow. Photo: AFP
Maya Plisetskaya, 85, will be on hand, with husband and composer Rodion Shchedrin, to open the Lincoln Center Festival next month.
Plisetskaya was not allowed to dance in the United States until 1959, and then only a few times before the Soviet Union collapsed. Dance students like myself followed Soviet dance careers, and the occasional defection, with keen interest. But Plisetskaya and her beloved husband, Rodion Shchedrin, never came to stay.

We saw her mostly on grainy films.

When she came to Hartford, Conn., in the 1970s, my inexhaustible dance teacher was the first in line to buy tickets. It was pouring rain the night she performed for us. The moment I saw Plisetskaya's grand jeté, the jump split that is the proper noun of the ballet vernacular, I gasped. My fellow students and I were convinced she jet-propelled from a diving board offstage. She stayed at the highest point for a moment, defying both gravity and time.

It was then I realized there was no chance for me, with my round tummy and parallel legs. Yet a vision of her beauty fortified me. When I finally gave up dancing in my twenties and began to write about dance, she was the ultimate vision of perfection in my head. Her Carmen was too sensuous for the censors, her dying swan only more perfect in repetition, her Anna Karenina utterly original.

Maya Plisetskaya is arguably the most important ballerina of the 20th century, kept under the closest watch. Her six-decade career stands in contrast to her childhood. Her family was Jewish, well known as artists, dancers and actors. During the Great Terror, her father was arrested and killed, her mother sent to the gulag. Plisetskaya's aunt had the vision and determination to continue Maya's daily ballet training in wartime.

In 2006, I saw Plisetskaya dance a three-minute Bejart solo created for her 80th birthday. Her fans joyfully waited hours outside the Kremlin Palace as passports were checked.

The piece was called "Ave Maya." Bejart had created a metaphor for her: These arms can still make this body fly.

Five years later, I may get a glimpse of her again. Plisetskaya will be in New York next month with Shchedrin for the opening of the Mariinsky Ballet at the Lincoln Center Festival July 11–16. The Mariinsky will perform the signature Plisetakaya/Shchedrin ballets: "Anna Karenina"; "The Little Humpbacked Horse"; and "Carmen Suite."

In her autobiography, she explains why she did not defect. Defection would have meant leaving her husband as well, as the K.G.B. did not allow them to travel together. Instead, she won her battles with the censors and danced better than anyone else.


The Mariinsky Ballet will perform July 11–16 at the Metropolitan Opera House. Valery Gergiev, the pre-eminent interpreter of Shchedrin's music, will conduct the ballets, with choreography by American Ballet Theater artist-in-residence Alexei Ratmansky.
All rights reserved by Rossiyskaya Gazeta.