Producing NPP equipment together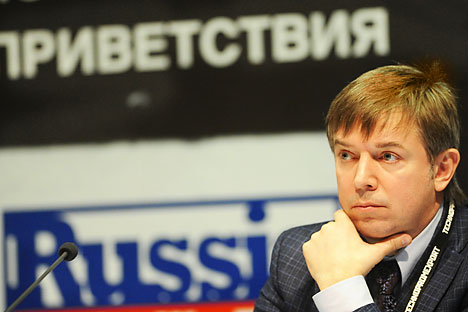 Vladimir Kashchenko. Source: Itar Tass
Russia and India will set up JV for production of NPP equipment before yearend.
A Russian-Indian joint venture for the production of equipment for nuclear power plants (NPP) will be set up in India before the end of the year, Director General of the AtomEnergoMash Company Vladimir Kashchenko said on the sidelines of the International Atomexpo-2011 Forum that opened in Moscow.
In his words, the joint venture will be set by an Indian enterprise, which is ready to produce NPP equipment under Russia's technologies.
"Currently, India has got several enterprises of rather high technological market, which may become participants in the Russian-Indian joint venture," Kashchenko said.
"In addition, India is a very promising market of nuclear technological equipment for the entire Asian region," he stressed.
The AtomEnergoMash director general is confident that the joint venture of the kind is "the prototype for the setting up of a regional structure for the production of atomic technological equipment, which may be exported to other countries of the region."
"If the Asian market of nuclear technologies develops rather intensively, then the Russian-Indian joint ventures will be very interesting and promising project, which will be beneficial both for India and Russia," Kashchenko said.
In his words, "the project of the joint venture has always been coordinated in full. It is expected that the first supply contracts will be ready this year."
Touching upon the AtomEnergoMash's economy, Kashchenko said that this year's portfolio of orders is estimated at 80 billion roubles (USD 1 = RUB 27.77). as well as 50 percent of all orders are projects of the atomic industry.
All rights reserved by Rossiyskaya Gazeta.