How did Russia captivate me?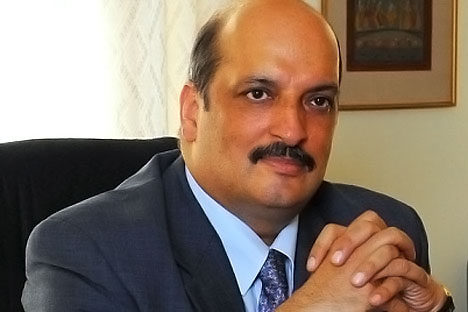 The new Extraordinary and Plenipotentiary Ambassador of India to the Russian Federation Ajai Malhotra has started work in Moscow.
The new Indian Ambassador to Russia keeps a photograph in his family album which was taken in Moscow in the 1960s. Young Ajai Malhotra is in the picture holding a Russian accordion. – I was visiting my father then, he was the naval attaché of the Indian Embassy in Moscow. I learned to play Russian folk music and read about the traditions and culture of your country, - the ambassador explains.
When he became a diplomat, Ajai Malhotra worked in Moscow in the 1980s and '90s.
"I sometimes read poems by Pushkin and works by Tolstoy and Dostoyevsky, first in Russian and then in English, - Ambassador Ajai Malhotra says. - I am greatly interested in the old Russian civilization and also in today's life of your country. Contemporary Russia is playing an active role at the international level and contributing in significant ways to international peace and security. I also find it attractive that key elements for a diversified, dynamic, innovative and market-based economy have been put in place, which will enable Russia to better harness the great potential of its talented and hardworking people. Moreover, growth has resumed in Russia after the recent global economic slowdown. An ambitious economic modernization programme has been launched by Russia, which will stand it in good stead. These are not small achievements for a vast country extending across so many time zones."
Ambassador Ajai Malhotra pointed out the coincidence of Russia's and India's interests on the majority of issues and similar understanding of finding solutions. He is planning to focus on our bilateral cooperation.
"Our warm and friendly ties extend beyond close and regular political interaction at the summit and other levels, to deep-seated, long-term cooperation in key sectors like space, defence, nuclear energy and S&T. Special efforts will also be devoted to strengthening our bilateral trade and investment, particularly in such priority sectors as oil & gas, pharmaceuticals and information technology. Cooperation would also be enhanced in fields ranging from medical sciences to biotechnology and nanotechnology".
Strategic partnership which our two countries are developing has a special nature, Ambassador Ajai Malhotra emphasizes.
"India's strategic partnership with Russia is a special and privileged one. Our friendship also reflects a unique political consensus in both our countries, which supports close India-Russia ties. The consensus cuts across party lines and ideological divides in both countries and is not subject to political vicissitudes. We are both clear that our growing engagement with the rest of the world will never be at the cost of the deep-rooted and time-tested friendship between us."
Ajai Malhotra has visited several Russian regions.
"A fortnight ago I was in Kaliningrad and heard first-hand from local leaders and ordinary workers how timely orders for construction of three frigates for the Indian Navy that had been placed on the local shipyard had immensely benefited the people of the city and nearby areas.
The pattern of cooperation we have developed has brought benefits to vital sectors in India and Russia. India has benefited from access to technology and materials that have contributed to its security and development, while Russian industries in these sectors have prospered from having India as a reliable and preferred partner. Several Russian cities and towns have benefited as a result. For example, Irkutsk, Kazan, Ulan-Ude, St. Petersburg, Vladivostok, Komsomolsk-on-Amur, Perm, Severodvinsk, Nizhny Tagil, Ulyanovsk, Samara, Rostov-on-Don, Taganrog, Yekaterinburg, Nizhny Novgorod and Tula.
By a happy coincidence it is precisely on this date ten years ago that we launched the first BrahMos missile, which has emerged as a fine example of down-to-earth, mutually-beneficial cooperation. The BrahMos project has combined our capabilities and competencies and integrated public and private industries from both our countries into a consortium that manufactures a world-class product. It has radically transformed our defence ties from a simple buyer-seller relationship to one that involves joint research, development, production and marketing of advanced systems."
These days, numerous invitations arrive for the Indian Ambassador to the Russian Federation to take part in the festivities on the 12th of June, Russia Day. Ambassador Ajai Malhotra and his wife Ira, who is also interested in Russian culture and art, intend to spend this day with their Russian friends, among whom are painters, writers and actors, to attend folk festivals, art exhibitions and by all means to stroll about the streets of old Moscow. Ajai Malhotra fell for the unique Moscow architecture when he first came to our capital. He is the author of an article, which was also published in Russia, about one monument of Moscow's architecture, the house where the Indian Embassy is situated.
All rights reserved by Rossiyskaya Gazeta.