A day of Russia in Mumbai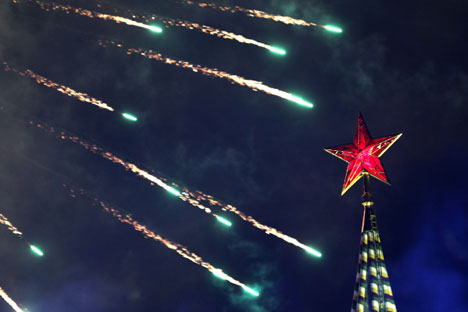 Mumbai toasts India-Russia friendship.
It was a veritable carnival, celebrating timeless bonds between India and Russia. Russian dancers dressed in colourful clothes set the stage on the fire and rocking music got the elite of India's commercial capital Mumbai swaying to the beats at the iconic Taj hotel. It was indeed "A day of Russia," the party hosted by the Russian consulate on June 13, to fete special ties that connect Indians and Russians.

The party took off in great style. After the national anthems of the two countries were played, a dance troupe from Russia set the stage on fire with a splendid array of cultural and dance performances in colourful traditional costumes.

The guests, who included the crème de la crème of Mumbai, turned up in their fashionable clothes, and recalled fondly the India-Russia friendship across the years. Sanjay Patil, a Member of Parliament, arrived well in time and cheered the performers as they held the audience spellbound with their breathtaking dancing skills. Amy and Farzad Billimoria thoroughly enjoyed the lavish spread, which included mouth-watering Russian delicacies. Anil Deshmukh, a minister in Maharashtra cabinet, was delighted when he was greeted in fluent Hindi. Anil Deshmukh was seen chatting with Viveck Shettyy, and talking animatedly about his love for Russia.

Abha and Y.P. Singh spent quality time at this gathering and so did jewellery designer Anup Shah who was accompanied by his wife Reeti. Alex O. Neil accompanied actress Shama Sikander.
Vladimir Dementiev, Vice Consul and Director of the Russian Cultural Centre, tended to all the guests personally. Kiran Shantaram and Ashok Kalantri also made their presence felt at this event. Viveck Shettyy, Anil Deshmukh and Vladimir Dementiev were overheard talking about their plan to take the Russian dance troupe to Nagpur for their next cultural performance.

Indeed, a magnificent party that attracted not only Mumbai's rich and powerful, but also managed to get across the quality of time-tested ties that have acquired a greater strategic depth in the 21st century. This bond has been strengthened by annual summits and regular high-level visits that take place fairly regularly between the two sides. Diplomats at the Russian consulate dwelled at length about the historical backdrop to the Indo-Russian friendship and struck a confident note that that this unique relationship would attain greater heights in the near future.
All rights reserved by Rossiyskaya Gazeta.