Needed: A monument for Gagarin in India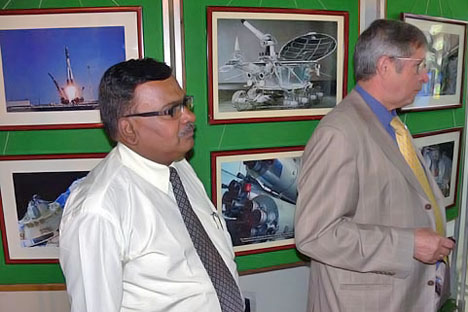 Viktor Savinykh (right) with programme co-ordinator Suhas B.Naik-Satam.
Advocating greater Indo-Russian space cooperation, Russian cosmonaut Viktor Savinykh, a veteran of three pioneering space flights, makes an impassioned case to India for creating a monument in the name of Yuri Gagarin, the first man in space.
Fired by the dreams of Moon and Mars, space cooperation between India and Russia are heading to greater heights. Russian cosmonaut Viktor Savinykh's recent trip to Mumbai, therefore, was an event that evoked much interest among space enthusiasts. And what he said in Mumbai, if it comes true, could prove to be another signpost in the evolving India-Russia space cooperation.
Delivering a special lecture at the Nehru Centre on the 50th anniversary of the first human space flight, the 71-year-old cosmonaut said he would like to see a monument in the name of Yuri Gagarin in Mumbai. "Yuri Gagarin was a great man. Moreover, he also visited Mumbai. If that (monument) happens, I would come for its inauguration and I am will help in every possible way," said Savinykh.

"It is important to have a monument in the name of Gagarin in India, in order to further boost the Indo-Soviet relationship," said Savinykh, the flight commander of the Soyuz T-13, the first human spaceflight mission to make a successful landing on an inert space station (Salyut 7).
And he is doing all he can to make his wish true. Last month, the Russian consulate had written to the state government requesting that the new Lalbaug flyover in Mumbai is named after Gagarin. "If not a monument, at least name the flyover after him. In Russia, there are so many roads and places named in honour of great Indian figures," said Savinykh.
The veteran cosmonaut also spoke movingly about the first flight as well as the first man in space – Yuri Gagarin. After recounting some of his space experiences, Savinykh spoke briefly about phenomena such as solar flare, space debris and the impact that they have on the ionosphere and space stations. He stressed that the training he had to undergo before missions was so rigorous that it was not difficult to deal with the real time scenarios. Speaking about his Salyut 7 mission, Savinykh said, "We knew the facts and also what was needed to be done failing which, we would be held accountable."
When asked about how the earth looked from space, he said: "The Earth looks beautiful from space. However, there are certain parts of the Earth that look very bad. I have seen those parts and recognise the need to protect our planet." He was hinting at pollution, a message that went down well with the audience which included many students.
Savinykh is upbeat about the prospects of Chandrayaan-2, a joint lunar exploration undertaken by the Indian Space Research Organization (ISRO) and the Russian Federal Space Agency (RKA). Saying that it is progressing as planned, he said that Rakesh Sharma, the first Indian to go into space, has given an impetus to the Indian space programme. He added that India had come a long way and was now in a position to help other countries in their missions. As the Russian mission to Mars is expected to return on November 5, Savinykh pitched for global co-operation with respect to interplanetary missions as all the work could not be done by a single country. He was not opposed to the idea of a "world government" with respect to tackling problems like ozone depletion and climate change.
"Our space odyssey is gone so far that we can now go to Mars. We need a team to make equipment and technology. Everything cannot be done by one country alone," said Savinykh, who has been decorated twice as the Hero of the Soviet Union.
All rights reserved by Rossiyskaya Gazeta.