Russian grain returns to international market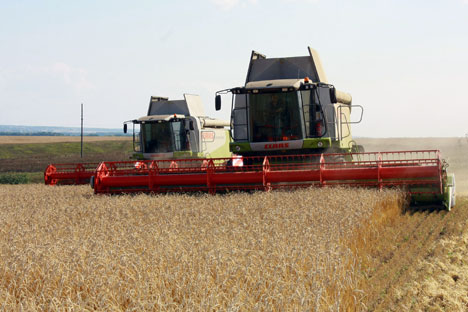 The country will start exporting wheat in August, nearly a year after fire and drought caused Russia to pull its cereals from world exchanges
As of July 1, Russia will lift its nearly year-long ban on grain exports. The ban was imposed in August 2010 following widespread wildfires and drought that caused a substantial decrease in the country's grain yield and threatened a shortfall in Russian agricultural production. The return of Russian wheat to the international market has, however, proved a cause for concern in some circles.
Within Russia, there are concerns about domestic shortages of grain. Sergei Ignatiev, the chairman of the Central Bank, proposed solving this problem in part by introducing export duties on grain. His initiative was supported by the Ministry of Economic Development and the Ministry of Agriculture. Ignatiev is convinced that introducing duties is the only way to curb inflation and maintain steady supplies on the domestic market. "Export duties should soften the inflationary effect from the lifting of the ban," the central banker said.
Foreign producers and consumers are also concerned about the return of Russian grain to the international market. The influx of Russian grain could change grain prices in Europe and on the stock market, but the market has adjusted to the absence of Russian grain and it now has no guaranteed consumer. Since May 23, when Russia announced the lifting of the embargo, European wheat futures have steadily gone down.
Analyst Tim Hannagan of PFG Best in Chicago does not believe that there is cause for panic on the grain market. "Russia will not dump huge volumes of grain on the market," Hannagan said. "Last year it endured a genuine disaster, therefore in any case a large part of the production will go to the domestic market." Moreover, in Hannagan's estimation, Russia will not have a strong grain harvest this year either, so there will be almost nothing left over to sell abroad.
Additionally, the International Grain Council maintains that a shortage of grain on the world market over the coming year is inevitable. According to the council, the consumption of cereals this fall and next spring will outstrip production by several percent. Moreover, weather forecasters are warning of the possibility of another anomalous and arid summer, which could have an extremely negative effect on harvests.
All rights reserved by Rossiyskaya Gazeta.