RTS-MICEX merger expected at end of July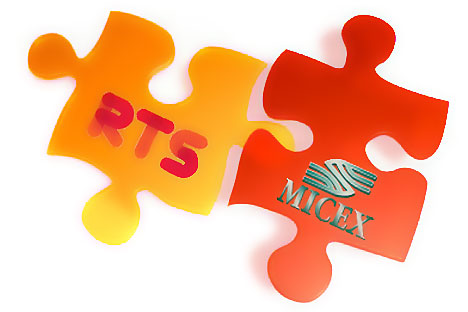 By year's end Russia will have one stock exchange instead of two. Government officials believe the move will help turn Moscow into an international financial hub; traders aren't so sure.
For the past 15 years, the MICEX (Moscow Interbank Currency Exchange) and RTS (Russian Trading Systems) fierce competitors. But according to market players, by the end of this year, MICEX will have swallowed its principal rival. The deal, in which roughly 35 percent of RTS will be paid for in cash and the other 65 percent exchanged for MICEX shares at a coefficient of 3 to 1, is expected to close July 22. RTS has been valued at 34.5 billion rubles ($1.23 billion)
Proponents of the merger maintain that it will make the Russian market more attractive to foreign investors, who were put off by the system of two exchanges. The united stock exchange is expected to eventually IPO, and also to attract investors such as the European Bank for Reconstruction and Development (EBRD) and the International Financial Corporation (IFC), who will receive some shares in the unified exchange from Russia's Central Bank.
"The merger of RTS and MICEX, the creation of a united structure, raising its standards of corporate management and holding an IPO, a quality IPO will help raise the organization's capitalization and increase the liquidity of the Russian market," said Alexei Ulyukaev, the first deputy chairman of the Central Bank.
Market players are, however, fairly skeptical about the plans for a merger. "The only way to attract Western investors is to raise the quality of the services we offer," said trader Dmitry Belchenko. "And development is impossible without competition."
"The only thing pushing the market to develop was the competition between MICEX and RTS," said Anatoly Gavrilenko, chairman of the oversight committee at the Alor Group of Companies. "All new products appeared on the market thanks to competition. The market worked fast because RTS had to compete with the developing MICEX market. RTS Standard is a survival project. The RTS market lived by market principles."
In response, proponents of the merger point out that the London Stock Exchange is not hindered from developing by the absence of domestic competitors.
Despite their brave talk about the abandonment of free market principles, private traders are unhappy about impending changes in the trading system. They are frightened by the idea of creating a single market index, the possible raising of tariffs, and the reduction in lines of products and services. At the same time, the heads of MICEX have so far said nothing about the specifics of the merger, and interested parties can only guess how the Russian stock market will look next year.
All rights reserved by Rossiyskaya Gazeta.