Rabindranath Tagore - Where the Mind is without Fear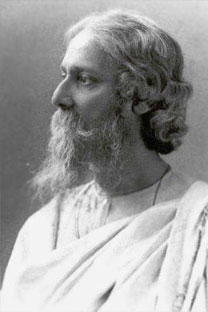 Source: Wikimedia Commons
Rabindranath Tagore taught the world the beauty of his Mother tongue - Bengali but the message he conveyed was universal. His open-mindedness towards other cultures and nations, ardent fight against prejudice and injustice, and his progressive ideas made him an iconic figure in the Indian sub continent with his legacy held in high esteem far beyond Indian boundaries. He was truly versatile with his contribution to the world not limited to poetry. He was a statesman, educationist, painter, composer and philosopher.
This year is 150th birth anniversary of Rabindranath Tagore. There have been a large number of celebrations in India, Bangladesh, Sri-Lanka in his honour and in several other countries not only on his birthday May 7 with events planned throughout the year. In Russia one of the most colourful celebrations of Rabindranath Tagore's anniversary was held at the Molodejny Theatre (Youth Theatre) in the heart of the city. The programme with the title "Let music ring in my soul" was opened by the Indian and Sri-Lankan Ambassadors, and the deputy chief of Bangladesh Mission. They spoke at length highlighting Tagore's contribution to the world of literature in particular and also various fields where his multi-faceted talent manifested itself. Indian Ambassador Mr. Ajay Malhotra said that "through Tagore India conveys its cultural message to the world" and he felt elated that "the celebrations attract attention to the rich legacy of Tagore".
The performance began with pupils of secondary school no 1279 and actors of lyceum no 2,Protvino city, attaching symbolic ribbons to an artificial tree on the stage. Then Tagore's poetry was recited accompanied by soft music. There were also various dances and songs performed in his honour. One of the most picturesque moments of the celebration was the performance by the actors from Narian Mar,Yamalo-Nenetski region. The actors were performing in their own language, those were the scenes with little action, mostly showing mother and child interaction, with the background of Rabindranath Tagore's wistful music, and his life-asserting poems glorifying the beauty of Mother-Earth. This cast a long-lasting impression on the viewers and left them in a contemplative mood for a while.
But my favourite part of the performance was when excerpts from Rabindranath Tagore's story "Land of Cards" were staged by lyceum no 2 theatre students. The main storyline was that of the Prince, who driven by his own curiousness and adventurous spirit, accidentally finds himself on the island where cards live. He falls in love with the Queen of Hearts and unknowingly disturbs the severe hierarchic structure of the kingdom, making the nines and the tens as significant as the Queens and the Kings. The hierarchy of cards symbolises the inequality in society. The convincing acting by young actors struck just the right cord, as Tagore's work - seemingly simple yet very profound, rich in progressive ideas without being too moralistic.
For example, in Tagore's Golpoguchchho (Bunch of Stories) the problem issues of women's emancipation are touched. In the story Strir Patra (Letter from a Wife) the suspicions and struggles of a Bengali woman who decides to leave her husband are highlighted.
In his other works such as dramas Chandalika (Untouchable Girl) and Raktakaravi (Red Oleanders) Tagore explores acute problems such as social inequality and abuse of power.
Rabindranath Tagore wasn't indifferent to the political road his country chose. He supported Indian Swadeshi independence movement but later kept a distance from it because he thought their methods of fight were too aggressive. Tagore was sometimes accused of keeping away from big politics and empathising with the British: Tagore studied in England , had friends among British people and accepted advanced elements of the English society. But at the same time reproaches against him seem to be exaggerated and unfair. His actions speak of his unflinching patriotism. His rejecting knighthood as a protest against the massacre of innocent people in Jallianwalabagh Punjab by the British Police clarifies eloquently his position as a citizen of his country and a defender of the rights of his people.
Tagore's inquisitive and unbiased mind made him a citizen of the world well beyond the boundaries of British India and the British Empire, and this explains his acceptance of points of view differing from his own. He travelled a lot and visited more than 30 countries in 5 continents between 1878 and 1932. Tagore's experience of getting to know various cultures and mentalities from the Soviet Union to Japan and the United States broadened his world outlook, no wonder that he wasn't prejudiced against any nation or religion and was open to dialogue when it came to intercultural conflicts and frictions. Tagore demonstrates open-mindedness when he reflects in Musalmani Didi about the relationship between Hindu and Muslim residents of India. He also speaks up in Haimanti against ultra-conservative family values which violate the rights of women in Bengal.
In his creative work Tagore explored a great variety of subjects. His writing style varies from solemn and contemplative to light and humorous. In the words of Mayank Singh, second secretary of the Javaharlal Nehru Cultural Centre, "one of the great achievements of Tagore was making his language, Bengali, closer to a normal common man in the street, understandable to masses". Before Rabindranath Tagore reading had been more of an occupation for the elite, for educated people. Thanks to him it had become accessible to a much larger circle of people. As a poet and a writer he possessed a rare gift of putting complex ideas and philosophic concepts into simple words. For example, his famous poem "Where the mind is without fear" is not burdened with complicated phrasing yet the depth of feeling and the brightness of expression are stunning. This, as well as many other poems, demonstrates very vividly what a fine connoisseur of the language he was.
Apart from the vast literary heritage of Tagore, he was a gifted composer, the music he created even has a special name - Rabindrasangeet. He composed Jana Gana Mana which became independent India's national anthem, and Bangladesh adopted his poem Amar Shonar Bangla as its national anthem.
Tagore was also a talented painter despite his partial lack of colour discernment. He painted in a unique style using peculiar colour combinations.
Tagore laid particular emphasis on education and had progressive ideas and he founded the renowned Shantiniketan University. When he won the Nobel Prize he invested the Prize money into this University.
It is not an exaggeration to say that people like Tagore are not for an age but for all time.
All rights reserved by Rossiyskaya Gazeta.