Lena and Sania: Fired by the Grand Slam dream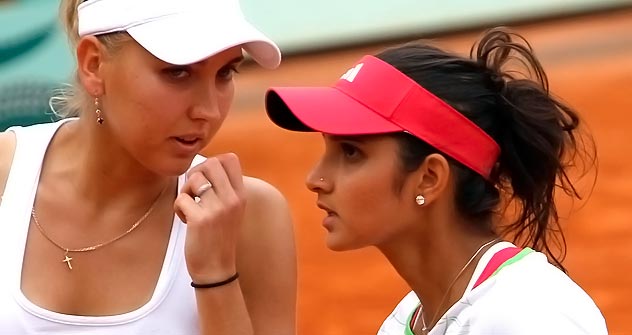 When I had a wrist inujury, Sania helped me regain my confidence: Elena. Source: AP/Fotolink
A native of Sochi, Russian tennis star Elena Vesnina is upbeat about the prospects of winning a Grand Slam tournament with her Indian doubles partner, Sania Mirza.
The Russian-Indian pair lost in Paris, but all is not over yet. This year, they have at least two more chances to win a Grand Slam doubles tournament — at Wimbledon which kicks off on July 20, and at the U.S. Open, which starts on August 29.


THE QUOTES
Samuel Sumyk
" I've known Vesnina for a long time, but we worked together only briefly, during the Federation Cup match in Madrid. Like many Russian girls, she is strong-willed. Maybe the world has the wrong idea about the Russians. You have this quality of wanting to do things well."
Sania Mirza
"In the final in Paris, we did not play our best tennis. Maybe because our opponents didn't feel the pressure; they weren't the favourites, after all. Also, a lot depends not only on the level of the players, but also other small things like sleep, rest and one's physical condition. One way or another, Lena and I will prove ourselves and win the most prestigious tournament — Wimbledon or the U.S. Open."
They say that tennis is a continuation of life. But only on court. That is, those qualities which a player possesses in life manifest themselves on the tennis court. That Elena Vesnina is a true professional and master of technique and tactics is beyond doubt. But Lena, as she is popularly known, is also an extraordinarily outgoing person, cheerful and kind. These qualities make her a redoubtable doubles player. As for her purely "tennis" abilities, she has quick reactions and a marvelous sense of the ball — the most indispensable qualities in a doubles partner.

Interestingly, Lena has already been in three Grand Slam finals, the most important and prestigious competitions in tennis: the French Open in 2009 with Victoria (Vika) Azarenko; Wimbledon in 2010 with Vera Zvonareva; and the French Open in 2011 with Sania Mirza.
You would think that on her third try, Lena would have won a Grand Slam title, but alas, the Czech duo of Andrea Hlavackova and Lucie Hradecka was stronger. Vesnina has yet to win any singles tournaments, only doubles. In doubles, she is a five-time champion. She won Indian Wells in Charleston in 2011 with Sania and in 2008, with Dinara Safina; Hobart in 2007 with Elena Likhovtseva; and Quebec in 2005 with Anastasia Rodionova. Playing singles, Vesnina has reached the finals five times: in Istanbul and in Tashkent (2010); in Oakland and in New Haven (2009); and in Charleston (2011).

Vesnina recently spoke to RIR about this year's French Open with Sania Mirza and her future plans.
---
Elena Vesnina is 25. Lives in Sochi, Russia. She has won five WTA women's doubles tournaments. Career earnings: $2.6 million. She is single. Source: Legion Media
Lena, it's too bad you didn't make it…

Well, that happens. I can't say that we played very badly or that our opponents played incredibly well. The Czechs waved their rackets around, and they managed everything. For us, it was a little difficult because we knew we had a chance of winning.

You've made it to Grand Slam finals every year, but with different partners.

Roland Garros is my favorite tournament. I'm thrilled that Sania and I made it to the final in Paris.

How would you describe Sania's game?

Sania often saved me. Our situation is like this: if one of us tires and starts to make mistakes, the other one supports and shows her what to do. You can't give your opponents easy balls, especially on return of serve. If you can't manage that, then you need to let your partner try.

I noticed you apologised to each other when you made mistakes.

Of course, we did! When one of us makes a mistake, we always apologise: "Oh, I'm so sorry, that was a bad shot, but I ran up in time." However, we don't pressurise each other.

You were formerly coached by Frenchman Samuel Sumyk, who is now training Vika Azarenko. Then you worked with Andrei Chesnokov, a famous Russian tennis player. Now you're working with your father, Sergei. What do you do to prepare for a doubles match?

My father, Sania's father and her trainer all discuss strategies. Everyone contributes, and then during the actual match, we choose ourselves which advice is the most effective.

Do you get any tips from your trainers during the match?

You know that's against the rules. But we have, why hide it? We even received a warning in Paris for that. The judge in the high chair noticed that Sania's trainer was saying something. Sania had to pay a fine. So everything is very serious, especially at Grand Slam tournaments.


Sania Mirza is 25. 
Lives in Hyderabad. Career earnings: $2.1 million. Married to Shoaib Malik, a former captain of Pakistani cricket team.Source: Reuters/Vostock photo
How and when did you decide to team up with Sania?

Before a series of American tournaments this year, we agreed to play together. I had a wrist injury. When my wrist started to bother me less, I went back to playing tournaments, but only doubles. And with Sania. We won Indian Wells. After that, I told myself that I should just enjoy my game and that I could win. When you have an injury, it's as though your whole life is on hold. Sania really helped me to regain my confidence and renewed my interest in the game.

You always say that the French Open is your favourite tournament. Why?

It was my first Grand Slam tournament. I played it as a junior. I like clay. In Sochi, you can train eight months out of the year on that surface. My results are not the very best, but I like to play here. Roland Garros is not as good as other tournaments: it's crowded, and there are lines for everything, including cars back to your hotel.

After Roland Garros, you returned to Moscow for a few days before leaving for England. It seems you did not have the time to go home to Sochi….

No, I only had a couple of days in Moscow — with Sania, actually. We trained a little. I had to come back to Moscow to get my British visa. Now I'll have to pay a return visit to Sania in India.
All rights reserved by Rossiyskaya Gazeta.