BrahMos maps new frontiers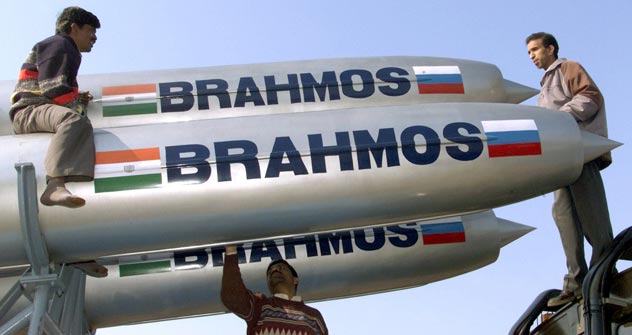 Source: Reuters/VostockPhoto
After a glorious decade, the BrahMos missile system continues to surprise with its capacity for innovation.
Source: Reuters/VostockPhoto
Ten years ago, the multi-faceted Indian-Russian military cooperation notched its first milestone when the BrahMos supersonic cruise missile system's maiden launch took place from Chandipur, Orissa on June 12, Russia's National Day. The launch marked a renewal of bilateral defence cooperation in a framework of strategic partnership.

The name of the missile -- BrahMos is an acronym of the names of two rivers – the Brahmaputra in India and the Moscow River in Russia -- underlines the signal importance of this project for both countries. The joint venture, BrahMos Aerospace, with Russia holding 49.5%, and India, or rather the Defence Research and Development Organisation (DRDO) under India's Defence Ministry holding the remaining 50.5% is constantly evolving and innovating. In mid-June, the head of the JV, Sivathanu Pillai, confirmed that the BrahMos missile is slated for its first underwater launch in late 2011.


"Speed, precision and devastating power in destroying the target makes the weapon unparalleled. Its competitor is yet to be born," says Dr A.S. Pillai, BrahMos Aerospace CEO. Source: AFP/EastNews
Now, the two sides are trying to develop an airborne version of the BrahMos missile, to be launched from various types of aircraft, including Su-30MKI fighters, which Russia produces especially for India. The first tests of the airborne version may be held as early as 2012. The joint-venture's co-director Alexander Maxichev, according to news reports, recently said that BrahMos Aerospace is planning to start developing a new upgraded version of the Russian-Indian missile in 2011, with the key specifications for the hypersonic BrahMos-2 missile already worked out. The new missile is expected to travel at five times the speed of sound, making it virtually impossible to intercept.

According to Alexander Baskakov, co-director, BrahMos is headquartered in Hyderabad, which boasts anti-ship missile production lines, and in Nagpur, where the missiles receive their warheads, and are stored in army arsenals.

The missile's 12-month warranty runs from delivery to the customer. The missile control system is deployed on Rajput 61E class destroyers, six of which are currently being revamped at Indian shipyards. Three Indian Project 11356 Talwar class frigates currently being built at the Yantar Shipyard in Kaliningrad will also be fitted with eight BrahMos missile launchers each. Indian admirals are looking for an anti-ship system of their own and they have set their sights on BrahMos. The missile travels at three times the speed of sound and boasts high precision. Currently, a large Project 15A vessel to carry 16 launchers is being built at a shipyard near Mumbai. The idea is also on the table to deploy BrahMos anti-ship missiles behind the control room on the new generation Amur-1650 diesel-powered submarine that Russia has offered India. Russia has already tested underwater missile launches. At the last minute, Indian admirals, however, sprang a surprise by purchasing Scorpene class submarines from France, and the contract with Russia was postponed until a later date.
Meanwhile, India wants the missile not only for its navy but also its army for hitting surface targets, and even for its air force - to arm the aircraft on which it prides itself, the multipurpose Su-30MKI fighter.

India currently has an entire squadron of BrahMos mobile land-based systems based on the Czech Tatra truck. Most of the missile's components are manufactured in Russia, including its solid-fuel booster stage and liquid core stage, target-seeking device, payload, etc. India supplies only the missile-borne computer, inertial system and interface unit.

The third purpose of the BrahMos missile – air launch – was equally well represented at the Aero India show. The Su-30MKI fighter has a fleet of 48 planes and 40 more have been bought from Russia. Equipping them with anti-ship missiles is the dream of India's top air force generals. As of today, no Asian state boasts such a powerful weapon.

Meanwhile, the joint design efforts have been quite a success and everything now depends on production. India's Air Force has already allocated two fighters for flight tests and the production of new planes is scheduled to start in 2012 at Hindustan Aeronautics Limited (HAL) enterprises. Presumably, Moscow and Delhi, says Baskakov, will try and tap new markets with their new product. "Indonesia, the United Arab Emirates, Brazil, Thailand, Chile and Malaysia have already submitted their orders for the anti-ship missile. This will become another highly promising area of Russian-Indian cooperation," he said.
All rights reserved by Rossiyskaya Gazeta.