Children's charities learn to find different partners 
as EU money runs out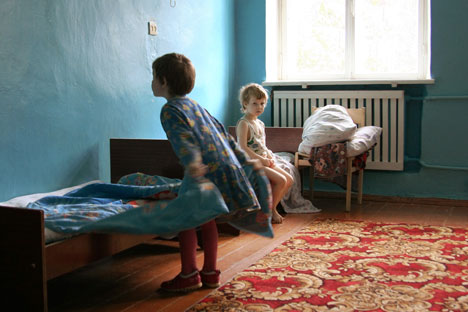 Private virtue: a German foundation provides funding for this orphanage in Pskov. Photo: Dmitry Markov
As the EU reduces financial assistance for charity programmes, it is helping them team up with private funds and Russian donors.
Until he was 16, Sasha was a child of the streets. His father died young and his mother was an alcoholic. He lived at several orphanages and stopped going to school, and finally fell victim to the bottle himself.

In the spring of 2007, Sasha joined the two-year Street Children programme for homeless children and teenagers, launched in St Petersburg with EU funds. He moved into a centre operated by the Doctors for Children charity which secured the backing and devised the programme. Doctors, psychologists and teachers began to work with Sasha and he was soon back in school. He became interested in art photography, and entered St Petersburg State University of Cinema and Television.

Sasha is now in his third year at the university and living with his grandmother, after the centre's workers put him in touch with her.

The EU spent € 300,000 (£267,000) under this programme, providing help for more than 1,600 orphans and homeless children. In the end, most of the children were enrolled in schools. Some teenagers have found jobs, and almost 100 children have been adopted or returned to their biological parents.

Denis Daniilidis, spokesman for the European Union delegation in Russia, described the Street Children programme as one of the EU's most successful projects in Russia. "If the municipal administration or any other local body takes this project over after the money from Brussels runs out, it will be an achievement," he said. The good news is that the St Petersburg government took over funding and the project is still going strong.

Euro well runs dry

Since 2002, the EU has financed more than 70 projects for children and people with disabilities in Russia. Yet the cash is drying up, the spokesman said. In 2002, the EU spent € 9m on 39 projects in Russia; €3 m on eight projects in 2009; nothing in 2010; and then just € 2m on people at risk this year.

There are several reasons for the shrinking financing. First, the Tacis programme came to an end in Russia in 2006. Since its inception in 1992, Tacis had been the EU's main channel for supporting reform in the former Soviet republics. "Russia used to be seen as a developing country, which accounted for the significant budget," according to Mr Daniilidis. "Now, Russians have to solve their problems themselves, which is why we are winding up our projects."

Looking ahead, the needs of charities in Russia may be overshadowed by the turmoil in north Africa in recent months. The European Commission has earmarked this region as a funding priority. But while well-received, the European funding alone cannot radically improve the situation in Russia. So the delegation is helping local funds to find non-governmental partners in Europe.

"Today, we are focusing on networking; we want to help get people together, instead of just paying ourselves," Mr Daniilidis said.

Private partnerships

More and more Russian non-governmental organizations are finding private sponsors in Europe. For instance, an international programme offering scholarships to gifted homeless children has been in place in the Pskov region since 2006.

It is being run jointly by European and American donors, who are providing cash for 98 children to pay their way through top schools.

Staff at the Pskov branch of the Russian Children's Foundation also help care for the stipend winners. Tatyana Bodrova, deputy director, who has worked with orphans since the early Nineties, says the foundation never got any 
direct help from the EU, relying on private sponsors from Austria, the Netherlands and Sweden. "Like any public organization, we have an opportunity to take part in EU competitions – winning them and getting funds, or losing and remaining empty-handed," she said.

"Even so, we prefer to establish direct contacts with European organizations and we have many such partners".

Along with Finland, Germany is one of the main charity providers in Russia. Pskov's children are also supported by sponsors from Moscow, St Petersburg and other Russian cities.

Russian money is hard to come by, however. "Though Russian businessmen – who are our potential sponsors – have recently been topping the Forbes list, it is much more difficult to get cash out of them," Ms Bodrova said.

However, ordinary Russians are also now more concerned with civil society problems, said Irina Yasina, an economist and member of the presidential Human Rights Council. The numbers of charity institutions and sponsors are rising by the year.

In the early 2000s, the Open Russia Foundation was, in fact, the only one to provide educational support for disabled children. "Only five years ago, it was as if these children did not exist, even for charity institutions," Ms Yasina said. "And now, wheelchairs are being bought, and programmes have been put in place to teach orphans the basics of their future life.

"In other words, there have been huge changes in recent years, and we are getting 
closer to Europe in this 
respect."
All rights reserved by Rossiyskaya Gazeta.