Visa boost to India-Russia business, tourism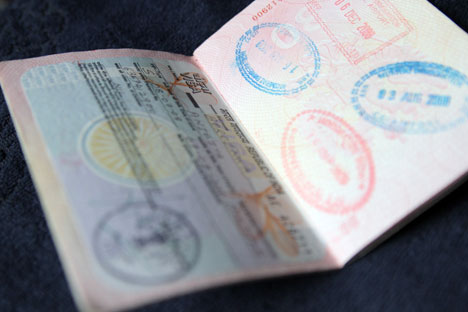 The business and tourism between India and Russia are poised for a major boost in the aftermath of a crucial decision taken by the Indian embassy to liberalize the visa regime early this month.
On June 24, the Indian embassy in Moscow announced that it has streamlined and liberalised its issuance of business and tourist visas to further encourage business contacts and promote tourism between India and Russia.
This would also mean quicker processing of visas. Both business and tourist visas would normally be issued in three working days following the date of application. Earlier, getting business visas took a minimum of ten working days. The new pattern is also being followed by the Indian Consulates General in St. Petersburg and Vladivostok.
"We are now issuing multi-entry business visas valid for one year against six months single or double entry in the past and tourist visas valid for six months with multiple entries," India's Ambassador to Russia Ajai Malhotra said.
The Russian citizens normally have to apply for the Indian visa by a Russian company appointed by the Indian mission to allow them to submit their applications even on weekends and holidays, when the Embassy is closed.
The liberalization of the visa regime was actually a gift by India on Russia's National Day, June 12. Malhotra said these measures to facilitate the travel by Russian businessmen and tourists to India were actually implemented from June 12.
The two countries, which enjoy a robust multi-faceted strategic partnership, already have a visa-free regime for diplomatic and official passport holders of both countries, that facilitates regular official contact.
This much-needed easing of visas is set to boost people-to-people flow between the two countries. According to Malhotra, the Indian Embassy in Moscow and the Consulates in St Petersburg and Vladivostok had issued about 110,000 visas to Russian citizens during 2010. "I expect this number to increase by about 25 per cent this year," he said.
More Russians are travelling abroad, and quite a few of them are coming to India to beat the Russian winter. In 2010, as many as 12 million Russian citizens visited foreign countries. That year, Russian tourists spent $26.5 billion abroad, Yuri Barzykin, the Vice President of the Russian Union of the Tourist Industry said. Each of those tourists spent around $2,200 on an average. The prospects of more Russian tourists coming to India clearly means more business. Located close to Mumbai, India's commercial hub, Goa, with its picturesque beaches and laidback lifestyle, is a hot favorite with Russian tourists who are known to spend weeks and months here. Russian tourists are also trying out New Delhi-Agra-Jaipur Golden Triangle, Mumbai and Kulu-Manali hill stations in northern India.
The easing of the visa regime for businessmen, India hopes, will help expand commercial ties which have remained much below potential despite sturdy military ties. Russia still accounts for over 60 per cent of India's military hardware exports. However, bilateral trade in 2009-10 was only $4.7 billion, with India's exports at less than $1 billion. During the visit of Russian President Dmitry Medvedev to India in December last year, India and Russia set a target of more than quadrupling the bilateral trade to $20 billion in five years. The two countries identified pharmaceuticals, energy, IT and communication, chemicals and fertilisers and banking and finance as key thrust areas of cooperation.
All rights reserved by Rossiyskaya Gazeta.