Yandex can be a global player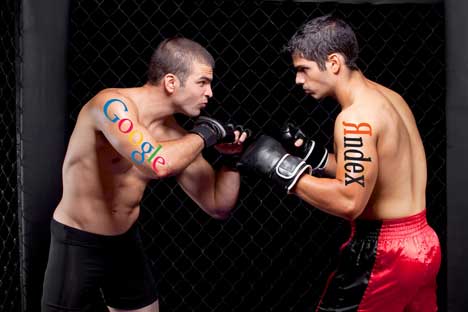 Since the Yandex IPO triumph last month, there has been a heated discussion in the blogosphere and media: about the stock options granted to its employees; the number of staff who became instant millionaires and shareholders who became instant billionaires; whether its stock will fall or rise. I am less interested in the greed games or in how many start-ups Yandex's newly rich will establish than in what Yandex is going to do with all that cash.

Investment memoranda always overflow with promises of unprecedented business development. So, in what areas can this web search engine boldly expand its business? In principle, maintaining a 66pc share of the domestic search market and unchallenged leadership on the Russian-speaking web is a worthy goal. There is a lot to be done here, of course, with e-commerce, mobile platforms, alliances and competition with social networks, digital TV, or geolocation services, to name just a few. But global expansion trumps them all. Today, real success must be global.

So which direction can Yandex take outside the Runet, and what does it need to succeed? Google dominates the global web search market. Search is the core of the Yandex business model, too, so any global expansion would mean taking on Google. This seems unimaginable: the global leader is much bigger in every possible respect. How do you compete with a rival that is, say, 50-fold bigger and better known than yourself? And one that owns what is generally considered to be a far superior global technology to boot?

There are several obvious things to consider. First of all, the club of national search engines is very small. In fact, it is much smaller than the space exploration club – implying that web search technology is more intricate than space technology. Fewer than 10 countries have a national web search engine, and in only five of them is the country's own search engine more popular than Google. Yandex is already a member of this small club, which makes it stand out.

Second, Google achieved its leadership in most countries virtually for free – simply because there was no national search engine there to start with. Wherever Google encountered some sort of resistance (such as China, the Czech Republic, South Korea, or Russia), it had to take a back seat. There are, of course, middle-of-the-road cases such as the cash-strapped Ukraine, which used to have its own web search engines (called Meta and Bigmir) and where Yandex and Rambler also made forays, yet Google still prevailed there.

In most countries, however, Google came to fill a void. To some extent this void is still there because Google has made no special efforts to become localized in those countries and has no incentive to do so. That is the beauty of its singular position – it does not even have to spend anything in order to maintain its leadership (except, perhaps, for keeping the languid Bing at bay).

Analysis of Yandex's success on the Russian web demonstrates that profound localization has been one of its key strengths, including local language support and a rich local content (including maps, schedules, traffic, movies and news), ie keeping a strong focus on whatever is important for the local user. It may, therefore, be concluded that this model might work on other local markets where Google has been formally localized at the source code page level, but continues to offer what is essentially no more than a simple query box.

For example, a close look at Asia's web search engine market reveals that Google is used there for want of anything better. The average number of pages viewed by a Google user after submitting a query is often three or four, compared with one on the Runet or in the United States, which shows the low quality of the search results. There are reasons to believe the Arab world, Africa, Latin America and even Europe are not quite satisfied with the global search engine.

Granted, deep localisation requires resources, such as staff, a local office, and cash. But Yandex does not need to start up everywhere at once. Even Google cannot afford to fight Yandex on each individual local market.

So far as Google's technological supremacy on the English-language web is concerned, Yandex trails Google by 15pc on the English-language web in terms of the aggregated search quality indicator, but it is far ahead of all other English-language web players. Bing, for example, is only one third as good as Yandex.

As for Google's hardware 
supremacy, in the initial stages the number of servers or data centres had little bearing on the efficiency of indexation. Analysis shows that Yandex trails Google significantly in terms of recall (by two-thirds), while Bing and Yahoo are much worse off. That is where the IPO comes into play: double or triple your hardware to index no fewer English-language (or any other) web pages than Google does, and worry about the load later, when you achieve user numbers anywhere near Google's. But that would be an enviable problem indeed.

All in all, catching up with Google on key quality measures is quite doable, even on the English-language web – not to mention the various national web segments.

The real problem facing international expansion is marketing, not technology. How do you displace Google, the very synonym for web search, from consumers' minds? In principle, the experience of IT security firm Kaspersky Lab (retail brand number one in Germany, the US, and dozens of other countries) shows that it is possible to take the fight with huge global rivals onto their own territory. The tools are available; all you need is effort, boldness, time, and money.

In short, I believe that international expansion should be the focus of Yandex's development. Technological development, fighting for a share of the Russian-speaking web, or dabbling in mobile applications are all fine, but you just cannot sit in your national domain and wait to be swallowed up by your rivals. Attack is the best form of defence.

A longer version of this article was originally published at Vedomosti.ru.


Igor Ashmanov is an IT 
expert and the founder of Ashmanov and Partners, whose most famous product, the Spamtest spam filter, became the foundation for the Kaspersky Anti-Spam solution. He is the author of the books "Life inside a Bubble" (on Rambler's behind-the-scenes intrigues) and "How to Promote Your Website in Search Engines."
All rights reserved by Rossiyskaya Gazeta.