Couch potatoes help launch sailor's dream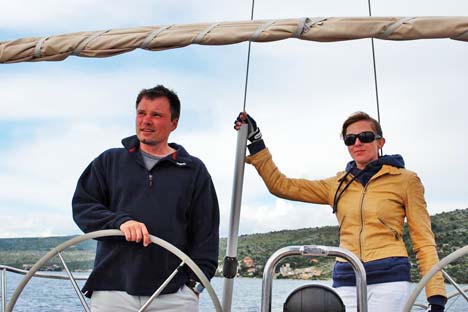 Yuri and Yulia Fadeev graduated from a yacht that had to be rebuilt to a RYA-accredited fleet. Courtesy of Yuri and Yulia Fadeev
Yuri Fadeev caught the sailing bug in Britain at the age of 21, and later founded his own school. But he hit plenty of squalls on the way.
"Spend your weekend on a yacht rather than the couch." That was the first ad placed in Russian shops in London by Yuri Fadeev, the Tashkent-born City banker-turned-owner of a floating money pit – and founder of the only Russian-run sailing school in the United Kingdom certified by the Royal Yachting Association (RYA).

Today, Yuri and his Muscovite wife Yulia bring hundreds of Russians to the UK to learn yachting, with courses in sailing English thrown in. But commercial success aside, theirs is a story of 
single-mindedness, romance, high seas and perilously low budgets.

Humble beginnings

It all started when Yuri, whose family emigrated to the UK in 1991, signed up at 21 for his maiden, life-changing sailing course. "It took place in Wales, in winter, storms for three whole days – I absolutely loved it!" says Yuri, who is now 33.

In 2001 he got his skipper's licence and immediately bought a yacht after "long and persistent"negotiations with the owner. Much as he grew to love the Tingara, she soon turned out to be a pig in a poke.

Skippers of the future

"I soon understood why the owner agreed to sell it for half the price," recalls Yuri, who spent three years virtually reconstructing his yacht at Brighton Marina in East Sussex. As his debts grew, 
he decided to try to make some money with the vessel. The ads were made, the couch potatoes stirred and signed up, and he never looked back. "I was offering a simple voyage along the Brighton coast, yet everyone was excited about the idea – for Russians it was truly exotic."

The first four people who responded to the ad went on to become skippers at other sailing schools, and still take part in Capstan's events as old friends.

The touring business lasted a couple of years. And while Yuri worked in a bank in the City of London during the week, he spent his free time renovating Tingara.

And then he met Yulia on a train. The epitome of a Russian belle – tall, blonde, blue-eyed, softly spoken – and with a career in radio journalism behind her, Yulia might not have fallen for the paint-smeared man in the cap with the bag of beer had it not been for the Russian book he was reading. "I asked him, 'Do you speak Russian?'" she recalls. "He replied ' Da, ' and then looks and says, 'I've got a yacht, you know...'"

"That's all I could talk about at the time since I'd invested all my time and money in it," Yuri responds with a grin.

After a few months, the couple moved onto Tingara together, and the hectic pace of commuting soon overtook the heady flush of romance. They would wake at 5.30am and spend two hours on public transport to get to London where Yuri worked as an investment banker and Yulia as a financial analyst. But their own business also grew, and the small group that comprised Capstan began to launch its own events. In 2007 the Fadeevs organised their first regatta.

Sailing boot camp

Inevitably, they had to choose between a professional life in the City or on the sea. The sea won. In 2009, the couple left their jobs in the financial sector and embarked on the first of their annual 
European voyages, through the Bay of Biscay and into the Mediterranean. This was definitely not a case of sailing into the sunset, but rather embarking on their own kind of 18-month sailing boot camp.

"We learnt a lot about the reality of cruising," Yuri says. "They write in books that sailing means unlimited freedom – not really, it's actually gruelling physical and psychological work."

After steady enlargement, and the gradual acquisition of a modest fleet of four, came the proud moment of Capstan's acceptance last year as an accredited RYA sailing school. There are 2,000 RYA schools worldwide: Capstan is the only Russian-run school of the 50 in Britain.

As well as offering elementary and advanced instruction and vessel charter hire, the school takes experienced and novice sailors to such highlights of the sailing calendar as Cowes Week, which is held in the Solent every August.

Today, the Fadeevs constantly count their blessings. "As they say, turning a hobby into work is generally an excellent way of ruining a perfectly good hobby, but we must have been lucky," says Yuri. "The more we teach people and the more we race and sail, the more we love what we do."
All rights reserved by Rossiyskaya Gazeta.