A writer without residence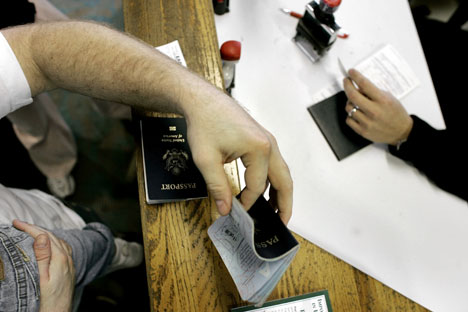 Source: Getty Images/Fotobank
Why is it so hard for foreigners to get residency in Russia? Could it have something to do with the Federal Migration Service? Tatiana Shabaeva questions the madness.
Finnish-born Christina Lehmus, 64, is a graduate of the journalism department of Moscow State University. Since her graduation, she has spent some thirty years of her life in Russia – writing about contemporary Russian art, translating (first for Progress publishing house and then for Russian-Finnish joint ventures), working for Karelia magazine, which is distributed in Russia and Finland, and most recently, at the Finnish Embassy.
For the 30 years Christina has lived in Russia, she has had a visa issued by her employers. But now she is 64. She receives a pension from Finland and no longer wants to have a steady job. She would like to devote her time to translating Russian books and write for the Finns about Russia, the country she knows and loves.
She has spent many years attempting to get a residence permit in Russia. During this time, the migration laws have gone through many changes, as have the reasons why she can't get a residence permit. Today, the Federal Migration Service responds that under the current system, she has to first receive a temporary residence permit, live with it for three years, then apply for a permanent residency permit. But these permits are given out via quota – and this year's quota for Moscow is 1,500.
But Christina has lived in Russia for 30 years and does not want to live three more years with a temporary residence permit – even if she were in the quota. She is a senior citizen and she wants to be entitled to healthcare in the local polyclinic. A temporary residence permit does not provide this social benefit.
The fact that she graduated from a Russian university doesn't matter; her decades of living and working in Russia don't matter; the fact she has had the same residence for many years doesn't matter because the apartment's ownership has not been clearly specified for all these years (Christina received it when she was an employee of the Progress publishing house). Because of this, she can't submit to the Federal Migration Service a paper to certify her actual long-term residence in Russia. The fact that she specified the same residential address at every job she had doesn't matter. Her Russian maternal roots and the fact she was married for seven years to a Russian citizen mean nothing. All that was in the past and today we have new laws.
Now about what really matters. Shortly after Christina's application to the Federal Migration Service a certain company called her and promised to help her settle the issue for 140,000 rubles. One way this company could get Christina's phone number is from the migration service.
Certainly, the influx of unskilled migrant workers to Russia is very large and it seems the Federal Migration Service should regulate the number of these migrants. There is even a special law designed to attract highly skilled professionals who may be entitled to a simplified procedure for work permit and residence permit. What do Russian lawmakers think is the qualification for highly skilled professionals? Salary. Full stop. This approach does not take into account a skilled migrant's level of education, his/her professional achievements and recommendations or benefit of his/her activities in Russia. Salary is the only criterion. If you earn 2 million rubles (about $71,000) a year you are a highly skilled professional. If you translate Russian literature for Finnish magazines you are not a highly skilled professional but just a common person.
The Finns are concerned about promoting their literature in Russia. FILI – an organization you can easily find online - gives special grants for such translations and publications, sponsors visits and seminars, actively looks for new translators. However, they are not very enthusiastic about publishing contemporary Russian writers and don't bother too much about gaining an understanding of their works. From this perspective, Karelia magazine (which is currently publishing "Escape from Paradise," a novel about Leo Tolstoy written by Pavel Basinsky and translated by Christina Lehmus) is a bridge that allows the Finnish intellectual audience to get to know the contemporary Russian literature and draw conclusions about the need for more publications of this kind. But Karelia magazine can't afford multimillion ruble payrolls, and therefore a translator is not a highly skilled professional. As we see, there's salary discrimination in the laws – and not only the discrimination of employees but the discrimination of employers as well.
All rights reserved by Rossiyskaya Gazeta.