No longer looking the other way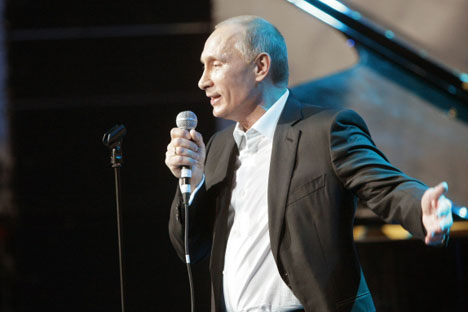 Vladimir Putin singing at the charity event in Saint-Petersburg, December 2010. Source: RIA Novosti
Charity is still nascent but growing in Russia. Recent growth has led to controversy, but advocates say vital signs reveal a healthy heart.
Vladimir Putin looked embarrassed as he ascended the stage, smiled at Sharon Stone sitting in the front row, took the mike and offered a rendition of Blueberry Hill. Although visibly uncomfortable, the prime minister agreed to this performance in order to help cancer-stricken children.
In December 2010, Mr. Putin and a group of A-list Hollywood celebrities took part in a concert organized by the as yet unkown Federation Foundation. This would have been perfectly fine had the Federation Foundation been in existence earlier than two weeks after the concert. And a real uproar broke out after the mother of a gravely ill girl alleged in an open letter last spring that the hospital where her daughter was being treated hadn't received a penny from the foundation.
At the time, a spokeswoman for the Federation Foundation, told the press that the foundation holds events and encourages donations but did not collect money. "We don't even have an account," she said.
Such mishaps tend to undermine the influence of Russian charities, which already face the skepticism of a population that remembers the turbulent 1990s, when many charities were set up for the sole purpose of money laundering. Lev Ambinder, the founder of the Russian Aid Foundation, said his charity experienced a backlash after critics charged the Federation Foundation of being a phony organization.
Russian actor Artur Smolyaninov shook his head in disappointment as he recounted a recent episode he witnessed at a supermarket: A woman murmured as she walked by a donation box for the Give a Life foundation: "Give a life… take a life… What a bunch of bull," and went on her way. "She didn't even make an effort to learn what the donations are for," said Smolyaninov, who has been a volunteer and an honorary member of Give a Life's Board of Trustees since 2006.
But that reaction is representative of the general public's attitude towards charity. Even when people know what foundations do, they "don't want to get involved in other people's problems," said Smolyaninov. "The 'look the other way' principle has long become a motto for many people. In the past, mothers used to put a hand over their kid's eyes when a disabled person entered public transit."
Some bad press, but charity is on the increase
Despite their controversial reputation, charities are expanding in Russia. "Russians have started paying attention," said economist Irina Yasina, a member of the Presidential Council on Human Rights. "In the early 2000s, a public organization called Open Russia was active in this country; it was essentially the only source of aid to the disabled, and also promoted special educational projects," said Yasina. Today, there is a whole range of organizations that provide wheelchairs to the disabled and prepare special-needs children for a meaningful life in society. "The last few years have seen fundamental changes. We are gradually catching up with Europe."
Influential organizations such as Give a Life are trying to restore public confidence in charity as a whole. They are transparent and guarantee that donations will actually reach those in need. The presence of prominent public figures on charities' boards also help draw attention to their activities. For example, actress Chulpan Khamatova is among the co-founders of the Give a Life foundation. Khamatova's charity collected three million euros ($4.2 million) in donations last year – substantially more than any other Russian charity.
"In the United States, 90 percent of the population regularly donates to charities," said Khamatova. "For an American to give a portion of their income to charity is the most natural thing. We can only dream of such an attitude here."
Yet Khamatova is cautiously optimistic: The new middle class is more concerned about helping those who have not managed any upward mobility.
Smolyaninov agrees. "Charity kicks in when a person has achieved a certain level of prosperity," said the actor.
In addition to increased income levels that allow people to consider charitable giving, Khamatova said she believes that many people are driven by the feeling of inner satisfaction inherent in the act of donation. The actress sees promoting charity as one of the most important aspects of her work, because "the state all but ignores this sphere today. The government preaches about the harm of alcohol or tobacco use, but keeps totally mum on the fact that wheelchair-bound senior citizens are at society's mercy," Khamatova said.
"We are a thorn in the side of bureaucrats at the Health and Social Development Ministry," she continued. "We regularly send them petitions criticizing absurd laws, such as restrictions on imports of medicines. We sincerely hope to be able to make a difference by helping to revise the government's healthcare and social security policy."
All rights reserved by Rossiyskaya Gazeta.