Tragedy on the Volga, and in Siberia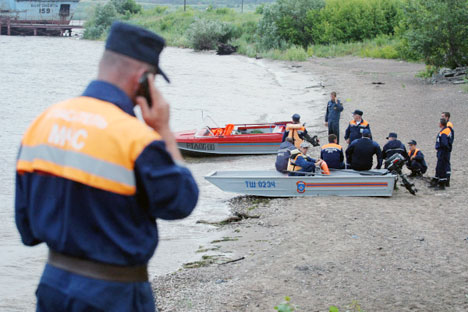 More than fifty Russian tourists are still missing after the 56-year-old tourist ship sank in the Volga River on July 10. A day later, a small passenger plane crashed on a river in Siberia, killing six. President Medvedev calls for a day of mourning and demands a crackdown on safety.
Dozens of children, many of them waiting in an entertainment room for festivities to begin, were among the bodies trapped in the sunken tourist boat "Bulgaria" that sank within minutes on a Volga River pleasure cruise on July 10 near the Russian city of Kazan.

There was no time for evacuation, and it is feared that none of the children in the game and music room survived. About 80 passengers have been rescued and there is little chance of finding more survivors; the Emergencies Ministry announced there were 208 people aboard.

Helicopters and motorboats with about 50 divers are at the scene searching for bodies and possible survivors. President Dmitry Medvedev announced that Tuesday, July 12, would be a day of mourning.

Grabbing strange hands as families are lost

Emotional survivors said in interviews that the sinking was a horrifying spectacle as the ship became a metal coffin and Russian tourists were hurled off the sinking boat that had been listing starboard from the launch.

Russian television reported that a five year old who lost his mother and grandmother was saved by a man who had lost his pregnant wife. Another unidentified man told TV reporters that he had lost his entire family and feared that all the children in the music and game room had perished. He also said that two ships passed the "Bulgaria" before a third ship stopped.

A day after the ship sank on the Volga River, an airliner ditched on a river in Siberia on July 11, after the pilot announced one of his engines was on fire. Six people died and 30 were injured.

The two tragedies in as many days led President Dmitry Medvedev to call for a large-scale, countrywide safety check and local authorities began checking boats.

Investigators said that the ship, built in 1955, had a list to starboard and its engine was broken when it left port, and was overloaded with passengers. The number of worn-out ship in Russia is "out-of-limit," Medvedev said, urging investigators to find out why the ship was in operation. Owners of all older ships should either carry out major repairs and refit or stop operating them, the president said.

The tragedies, as well as a recent series of deadly accidents involving aircraft, prompted criticism from Russian lawmakers who urged the government to take decisive steps to improve transport safety.
Soviet built Antonov An-24 turboprop airliners, the type of plane that tried to land on the river in Siberia, should be permanently grounded, president Dmitry Medvedev said on Monday.
(RIA Novosti, Russia Today)
All rights reserved by Rossiyskaya Gazeta.