Russia wins volleyball World League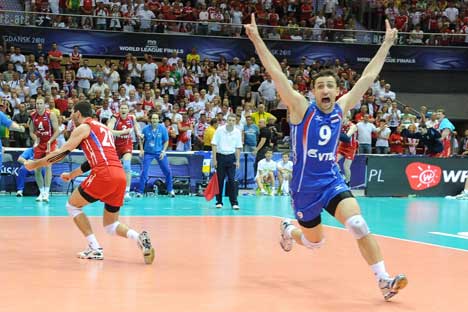 Russia's volleyball team has won the World League for the second time in the competition's history after a nail-biting triumph over Brazil. The star-studded showdown produced a five-set thriller, with Russia holding its nerve to take the decisive play 15-11 and win the title for the first time since 2002.
High-risk strategy
Team captain Taras Khtei admitted that it had been a stressful evening in Poland, knowing that victory was always within reach but proved tantalizingly hard to secure. And he told Sovietsky Sport that the strategy had always been to attack Brazil at every opportunity.
"We were determined to take risks," he said. "We wanted to force the game, regardless of the score." And Khtei was gratified by the praise of US volleyball legend Clayton Stanley, who ranked Russia's stars as the up-and-coming team in the world game. "I agree with him," Russia's captain added. "This victory should be the first step to occupying the niche which was previously Brazil's."
Watered down celebrations
The only thing missing from Russia's triumph was a champagne send off. Perhaps the only error made by the coaching staff was failing to order up a few bottles of bubbly to toast the team's success.
In the locker room after the match Gennady Shipulin, head coach of Lokomotiv-Belgoriya, one of Russia's strongest club teams, had to smuggle in supplies to get the celebrations bubbling over.
All rights reserved by Rossiyskaya Gazeta.