Ikea bank to furnish Russia's shoppers with credit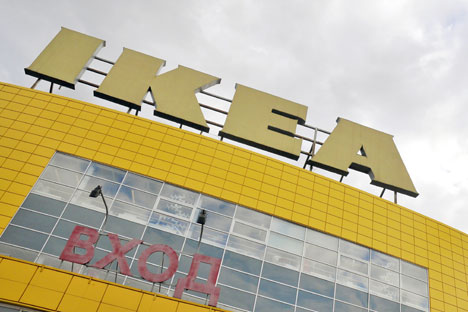 The Swedish retail giant hopes that it's blue-and-yellow logo will soon be showing up in consumer's wallets.
Like most Europeans, Russians are used to finding the Ikea brand stamped on their tables, chairs and meatballs, but they could soon find the ubiquitous blue-and-yellow logo on their credit cards as well.
The Swedish retailer is reportedly considering creating its own retail bank in the country, joining a host of other shops and car manufacturers looking to take advantage of expanding consumer credit. While retailers obviously enjoy the sales boost that credit schemes offer, the costs can add up if they leave the running and risk to a contracted bank.
Credit Europe Bank currently provides the loans at Ikea's stores across Russia, but analysts told The Moscow News the company could cut its total costs by up to 2 percent by setting up its own operation.
Russian daily Kommersant reported that Ikea will now set up its own bank in partnership with Ikano Finance, part of a group spun off from the retailer in 1988, but still controlled by Ikea owner Ingvar Kamprad and family.
However, while retailers worldwide run their own credit operations, in Russia, only licensed banks can offer such services. And after going through all the time and trouble to get a banking license, it doesn't make much sense to stop at offering loans to your own customers.
For the moment, Henrik Jensen, Managing Director of Ikano Finance Russia, says that a final decision has yet to be made: "Ikano has been considering different opportunities, including setting up a local bank, but, so far we have not applied for bank registration."
Other retailers, however, have jumped right in, joining a trend pioneered by a range of international car manufacturers including GM, Volkswagon and Toyota. French food retailer Auchan is expected to import its Banque Accord Group in the near future, while electronics retailer Svyaznoi teamed up with Promtorgbank to launch Svyaznoi Bank last year. The company has said it hopes to develop Svyaznoi Bank into one of the leading financial institutions in the country. It has already issued 500,000 credit cards with a loyalty bonus program attached.
Chasing the under-leveraged consumer
The prize at the end of these metamorphoses is the huge potential of Russia's under-leveraged consumer. Consumer credit – particularly at the point-of-sale and via credit card - is expanding again as consumers regain their confidence and turn to upgrading their homes and cars. But income and wage growth remains somewhat sluggish, which means that growth in retail sales numbers is increasingly driven by consumer loans.
"Retail sales increased 5.5 percent year-on-year in May, almost unchanged from 5.6 percent in April, despite the continuing decline in disposable income (down 7.7 year-on-year in May) and subdued real wages growth (up 2.6 percent year-on-year)," said Alexandra Evtifyeva, an economist at VTB Capital. "The robust consumption growth is supported by the acceleration in retail lending (up 22.8 year-on-year in May) and a tightening labor market."
In particular, point-of-sale lending is a niche that offers serious opportunities for both retailers and traditional banks, as the small, unsecured loans offer a high yield. Even Russia's overwhelmingly dominant retail bank Sberbank is now keen to get a hold on customers as their aspirations peak at the point of sale; Sberbank has agreed to a joint venture to develop BNP Paribas subsidiary Celetem – currently the country's seventh-largest point-of-sale lender. On Jun. 22, Sberbank raised its forecast for its overall retail loan book growth to 25 percent this year.
"This is good news for Sberbank in our view, as Cetelem is a strong partner that will bring important know-how, technology, and risk management systems to develop Sberbank's consumer loan business" said Simon Nellis, a banking analyst at Citi Group. "[It] will allow Sberbank to capitalize on expected strong growth in point-of-sale lending in Russia."
All rights reserved by Rossiyskaya Gazeta.