Hope beyond differences: A reset trip concludes with high marks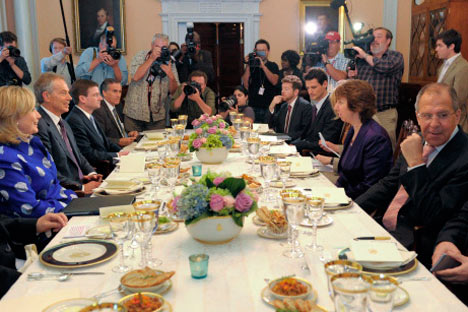 Meeting of the Middle East Quartet in Washington, D.C. on July 12. Photo: RIA Novosti
Swooping down to the U.S. capital, Foreign Minister Sergei Lavrov reassures "reset is working".
Russian Minister of Foreign Affairs Sergei Lavrov spent two and a half days in Washington D.C. this week, a majority of that time spent in discussions with Secretary of State Hillary Clinton.
Immediately after his plane landed on Monday at Andrews Air Force Base, Lavrov and his entourage headed to Foggy Bottom to discuss the Middle East with Quartet members.
The following morning he delivered a speech on U.S.–Russia relations at the Center for Strategic and International Affairs. Lavrov argued that the reset is working, but he said that the prospect of an American missile defense system in Europe remained the principal irritant in bilateral relations, and repeated that Moscow and the West do not agree on the nature of the threat.
"Without agreement on the character of the threats we won't be able to cooperate on missile defense", said Lavrov.
Lavrov also met President Obama and among a range of issues they discussed democracy and human rights in Russia, including the death of Russian lawyer Sergei Magnitsky, the White House said in a statement.
"The President thanked the Foreign Minister for his efforts to complete a new bilateral agreement on visa liberalization as well as a new agreement on adoptions, both of which will touch many lives in Russia and the United States," the White House statement said.
Obama and Lavrov also discussed opportunities for cooperation on missile defense in Europe. The president reaffirmed his strong support for Russia's efforts to complete its World Trade Organization accession process this year, and discussed the necessity of granting Russia Permanent Normalized Trade Relations.
After his meetings at the White House Lavrov went to Foggy Bottom where he spent several hours with Clinton, discussing Libya, Syria, the Iranian nuclear program and conventional arms in Europe.
At the end of the meeting, Lavrov and Clinton signed agreements on cooperation in the adoption of children, and exchanged diplomatic notes to bring into force previous agreements on the management and disposition of plutonium.
Separately, Lavrov also met with Sen. John Kerry (D-Mass) and a group of Russians living in the United States – the so-called "foreign compatriots".
Towards the end of his visit, Lavrov spoke about increased cooperation across the Bering Strait, and noted that on July 13, 1728 the first expedition of Vitus Bering to Katchatka began. That voyage proved that Eurasia and North America are divided by a sea strait.
"And these days, a group of Americans and Russians are going through the Bering Gulf in commemoration of this historic date," said Lavrov. And we talked about Alaska a lot today… about the need to develop cooperation… that would be very interesting for people who live in Alaska and Chukotka."
At the brief press conference the journalists suddenly heard the noise 
of a severe thunderstorm as a storm dropped over the overheated capital. But it did not prevent the ministerial plan from taking off on time.

All rights reserved by Rossiyskaya Gazeta.