Dmitry Medvedev meets Ajai Malhotra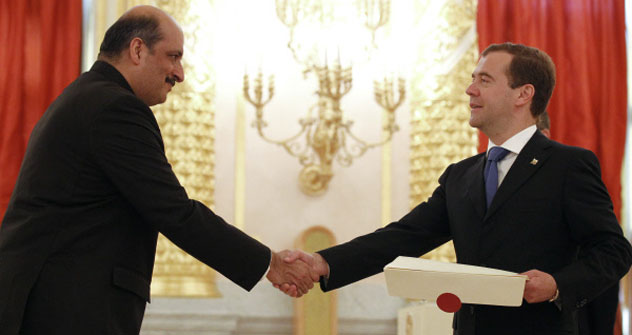 Ajai Malhotra and Dmitry Medvedev during the receiving credentials ceremony at the Moscow's Kremlin, Russia, July 14, 2011. Source: RIA Novosti
"Today our countries have reached a new level of partnership that can be described as 'Privileged Strategic Partnership'," Mr. Medvedev said, accepting credentials from India's new Ambassador to Russia Ajai Malhotra and 10 other foreign envoys in the Kremlin on July 14.
The Russian leader stressed that strategic ties with India are not only "based on trustful political dialogue, but is also marked by large-scale trade, economic, military-technical ties and promising cultural projects," The Hindu reports.
Mr. Medvedev felt the forthcoming official visit to Russia by Indian Prime Minister Manmohan Singh later this year will become "another important milestone in expanding our cooperation."
According to The Hindu, at a one-to-one with Mr. Medvedev over a champagne toast to celebrate the occasion, Ambassador Malhotra conveyed "the greetings and warm good wishes of the Honorable President, Honorable Prime Minister and the 1.2 billion people of friendly India."
India's new envoy was very warmly received by the Russian President, who reiterated to Mr. Malhotra his great sorrow and indignation over Wednesday's terrorist attacks in Mumbai and asked him to convey his deepest condolences to the victims' families, the Indian embassy said in a press release. Earlier Mr. Medvedev expressed his "deep-felt condolences," as well as "grief and indignation" at the Mumbai attacks in a telegram to the Indian Prime Minister.
"Inhuman crimes directed against the foundations of civilised society arouse anger and condemnation. They can have no justification and their organisers must bear the harshest punishment. The evil act perpetrated in India reconfirms the need for concerted joint efforts in combatting terrorism," Mr. Medvedev said.
After the Kremlin ceremony, Ambassador Malhotra described the India-Russia partnership as "unique, multifaceted and time-tested, characterised by unprecedented goodwill and trust," as well as "exemplary in many ways," The Hindu reports.
All rights reserved by Rossiyskaya Gazeta.