Rites of passage: California twins return to Russia where they were born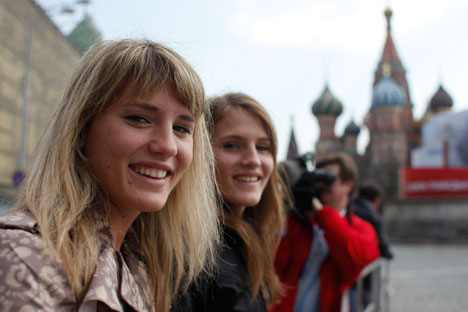 Twin sisters Jennifer, left, and Jessica, pose for a photo in front of St. Basil's Cathedral in the Red Square in Moscow. Photo: AP
On their first return since they left Moscow's Orphanage No. 13 sixteen years ago, Jennifer and Jessica Allen exclaim, in unison: "It's so awesome... that we're from here!"
The 18-year-old twins Jennifer and Jessica Allen look like two pretty Russian dolls with high cheekbones and statuesque figures, one blonde, one brunette, as they interrupt and finish each other's sentences. Having grown up under the California sunshine, they recently discovered life in Moscow, their hometown.
Sixteen years ago, Mike and Pam Allen crossed the ocean to adopt the two little girls, with only a single photo and a short video of them from Cradle of Hope, the Silver Spring, Maryland-based adoption agency that helped them. Encouraged by friends who had adopted in Russia, the Allens, who already had two children of their own, felt drawn to this part of the world. "Strangely, we felt safer with Russia. There were often problems with American adoptions, with biological parents reappearing, for example," remembered Mike Allen, a retired Air Force pilot.
After four long months of paperwork, the couple arrived at Moscow's No. 13 Orphanage in August 1994, weighed down with gifts and medication. They were received by the staff with open arms. At that time, the Russian-American relationship had not yet been tainted by adoption deals gone wrong. In recent years, Russia has accused the United States of allowing the mistreatment of orphans in at least about 17 cases that ended with the death of the child, many of those from neglect or abuse. As a result, the process of adoption has become fraught with difficulties and the number of adoptions of Russian children by American parents has dropped from 5,826 in 2004 to 1,079 in 2010.
However a bilateral adoption treaty was signed on July 13 by Foreign Minister Sergei Lavrov and Secretary of State Hillary Clinton. The treaty will ensure that Russian children adopted will be monitored and remain Russian citizens until they are eighteen years old.
Most adopted children from Russia are thriving in the United States, advocates say. For many American parents, their children adopted from Russia have broadened and enriched their lives in ways they could not have expected.
Pam Allen shows the girls the orphanage they were adopted from. Photo: AP
The biggest adventure of their lives
"The only difficulties were bureaucratic, but everyone did their work," explained Pam Allen, who works as a nurse. She said she is still very moved by the people who guided them in what was to become the biggest adventure of their lives. However there were challenges beyond the documents: The twins Svetlana (now Jennifer) and Galina (now Jessica), as they had been named by their caregivers, were too small for two-year-old girls and suffered from malnutrition and whooping-cough. Mike and Pam were prepared—they were told that only sick children were available for adoption. That didn't stop them from spending several difficult days waiting for Svetlana to return from the hospital so they could fly home to the United States. "We only had one mission, to bring the girls back home," Mike said.
Back in California, American doctors nursed the girls back to health, while Pam gradually introduced them to the rich variety of food in their new country. Jennifer and Jessica not only grew up healthy, they both became field hockey champions with the support and encouragement of their parents. Next year, they will attend university; Jessica wants to become a nurse, while Jennifer is interested in communication studies.
The return to Orphanage No. 13
Jessica and Jennifer are very protective of one another and very close. This week's visit to Moscow is a graduation trip before higher learning separates this tightly knit family for the first time. The goal of the visit this summer was to show the twins where they spent the earliest years of their lives. On the first day, Mike and Pam Allen visited Orphanage No. 13 and brought along two suitcases full of toys and clothes. The twins said that they were lucky to end up in such a good orphanage. Mike Allen agreed: the Moscow orphanage is a clean, comfortable environment as good as its American counterparts.
Over the course of a week, the Allens methodically explored the capital. The girls said they especially enjoyed losing themselves in the crowd. "People spoke to us in Russian several times, but our parents are immediately singled out," Jennifer said. Jessica said she would like to bring her own children here someday.
Mike Allen takes a picture of his family on Red Square, Moscow. Photo: AP
While they said they never suffered for it, Jennifer and Jessica always knew they were born far from the beaches of San Diego. They felt different, but in a good way. "Everyone always thought it was cool that we were Russian," Jessica said, laughing. "They were like rock stars," Mike added, noting they were mentioned in the local media from time to time.
As Russia and the United States move toward ratification of the adoption treaty to avoid future neglect, abuse and mistreatment of children adopted from Russia, the Allen family said they hope their experience will serve as a reminder that violence toward these children (more than 60,000 Russians have been adopted by Americans) is quite the exception. For Mike and Pam Allen, the twins were two gifts "from the grace of God."
All rights reserved by Rossiyskaya Gazeta.