'It was hard work, but also a lot of fun'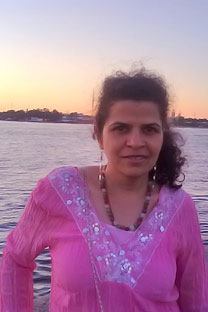 Source: Personal Photo Archive
A resident of Delhi, Rashmi Rajput recalls having a great time, mastering subtleties of the Russian language at Pushkin Institute of Russian Language in Moscow. It was not only a great learning experience, but those ten months also implanted in her a deep love for Russia, its natural beauty and the depth of its culture.
When I started learning the Russian language way back in 1982, a girl in my class won a quiz and got a free ticket to go to Moscow. Since then I always dreamed that I would also go to Moscow one day.
Many years passed by. I lost touch with Russian that I had learnt so painstakingly. However, sometime last year I felt an itch to refresh my knowledge of the language. I thought I must follow my heart and joined Russian Centre of Science and Culture and completed five semesters. I applied for the scholarship and constantly pestered Dr Girish Munjal & Ms Elena Shtapkina to help me get one. Finally, six of us went to Moscow in October 2010.
Before we left, we were warned about the severity of the Russian winter and therefore we packed in enough woolens to beat the cold. When we reached there, it was end of autumn. It was cold, but pleasant. The streets were full of yellow leaves. It all looked so beautiful and invigorating.
I shared a room with two Vietnamese girls. They were warm and nice but spoke little Russian. There was another room which two other girls were sharing, an attached bathroom and a fridge for us. There was a common kitchen with 12 hot plates, in which everyone cooked their food. Initially we were a little shocked to find food, fruits and vegetables were so expensive. However, as luck would have it, we found an affordable supermarket called Ashan & vegetable market in Teply Stan metro station.
The kitchen turned out to be a place for bonding and forging new friendships and contacts. It was in the kitchen that we made friends with students from different countries like Ukraine, Vietnam, Tunisia, Turkey and Italy. Of course, we were homesick but most of the students were friendly. We celebrated Indian and Russian festivals with our friends.
The classes started from 9.30 am continued till 2.50 pm. Each class lasted one and a half hours. The main subjects comprised practical Russian and grammar. We also had separate classes for reading, phonetics, history and literature. We were really blessed as far as teachers were concerned. They were brilliant and very helpful. Learning Russian was a lot of hard work, but also fun.
As winter started, it was initially hard to go out as it was freezing outside and walking on ice was not easy. But soon we got used to it. If you are equipped with warm clothes, you can smile your way through the Russian winter. Always carry a thick coat, gloves, mittens, muffler, cap, thick socks, warm innerwear and long boots. Umbrella is a must as rain is unpredictable in Moscow. We were lucky as the hostel and the institute were inter- connected and, therefore, we did not need to go out in freezing cold to reach our classes.
If you know somebody in Moscow before you go there, it helps. I had made a friend on the internet before going to Moscow. She was very nice and hospitable. She introduced me to many places in Moscow as well as Russian food. I particularly liked Yolki Palki restaurant. Food was great, but being a vegetarian I could not try everything.
Commuting in Moscow is not a problem. Metro is very convenient and fast. Once you get the hang of metro routes, moving becomes easier. It was delightful to explore the beautiful city of Moscow. The Red Square was majestic and I walked around admiring its beautiful architecture. And looked in awe at the Kremlin where decisions concerning millions are made. If one loves history and culture, there is no place like Moscow. We spent hours inside museums like Tretyakovski Gallery, Historical Museum, Museum of Retro Automobiles and Pushkin's Museum.
In May and June, there was the Day of Museum and the Night of Museum, when the entry was free. We went to St. Petersburg in June, which is a pleasant time to visit the city as it is very cold there most of the year. It's a beautiful city with the gracefully flowing river Neva adding to its charm. And then there are fabulous museums: Kuntskamera Museum, the first ever museum in Russia, started by Peter the Great and the beautiful Hermitage Museum. In spring and summer, it's sheer bliss to be in Moscow. There are flowers everywhere and a carefree atmosphere; the young and the old can be seen having a good time. I thoroughly enjoyed my time in Moscow. I am sure other students will not only learn Russian, but carry lasting memories of a beautiful place and a great civilisation. And yes, getting 5 not difficult if you are regular in class. Best of luck.
All rights reserved by Rossiyskaya Gazeta.